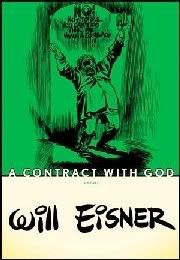 A Contract with God
is a collection of four short stories, all set in tenement at 55 Dropsie Avenue, The Bronx, New York, somewhere in the 1930's. According to Will Eisner, the stories are semi-autobiographical - they were based on his memories of growing up in New York city at around that time, among other immigrants, many of which of Jewish origins. The stories are based both on his experiences and on those of the people who surrounded him. In the preface to this edition, he says,
Call me, if you will, a graphic witness reporting on life, death, heartbreak, and the never-ending struggle to prevail...or at least to survive.
These themes are indeed present in all four stories. In the first one, which gives the novel its title, a man, heartbroken over the death of his 16-year-old daughter, feels betrayed by his God. He believes that he had a contract with God, and that God did not honour the terms of the contract. Therefore, he decides that he is going to break the contract as well, and cheats his way into a rich and luxurious life. Things take a turn, however, when the man decides to make a new contract with God.
"Cookalein" is about a summer at a Jewish country getaway, where some of the tenement's inhabitants spend their holidays. It is a story about social ambition, love, passion, and betrayal. Like in the other stories in this collection, there is quite a bit of irony in the way things turn out.
"The Street Singer" is about a poor street singer just misses his chance of becoming successful… or does he? The singer will never know, nor will the reader. A perfect illustration of life's much too common "what ifs".
Finally, "The super" is about – you guessed it - a super who suffers the consequences of his just for young girls.
Like I said, I really liked the way all these stories perfectly illustrated how ironic life can sometimes be. The stories are full of disappointment and heartbreak, but also of hope and joy – they tell us how harsh defeat can be, but they also celebrate life's little triumphs.

It was only some four years or so ago that I began to read comics and graphic novels more or less regularly. And because I am so used to reading text only books, I really have to push myself to give the artwork the attention it deserves. It goes without saying that, unlike in an illustrated novel, in a graphic novel the art is not just a companion to the text. It's a fundamental storytelling tool that says as much – and often much more – as the words. All this to say that I am in awe of Will Eisner's art. His drawings often say much more than words ever could. He is especially masterful when it comes to the character's expressions – they can be powerful and subtle, intriguing and deeply emotional. Whenever I read one of Will Eisner's comics, I always make sure that I go slowly enough to truly take in everything that is on the page, and read the bits of the story that are not written down.


---
There are a lot of exciting book giveaways going on right now! On my last post I mentioned Eva's and Rhinoa's. Also to celebrate Buy a Friend a Book Week, Melody is giving away copies of The Road by Cormac McCarthy, Men of Courage by Lori Foster, Donna Kauffman & Jill Shalvis and Left to Die by Taylor Kincaid. Just let her know which books you are interested in before the 8th of January.

Also, Dewey is buying the winner of her giveaway any book under $20 that they want from Amazon. The deadline to be entered is the 7th of January. If you spread the word about the giveaway on your blog, you get to be entered twice!


---
Yesterday when I got home I had a letter from the library waiting for me. It was a very stern letter telling me to immediately return a book that was overdue since the 4th of December—the only problem being the fact that I had never requested or even heard of the book in question in my life. It was an YA book called

Amelia's Star

. I thought, okay, obviously they somehow mistook me for someone else, and tomorrow morning I will go there and explain, and this will all be solved.

Well, I did go there this morning, but unfortunately it wasn't that easy. The lady I talked to would just not believe that I had never requested the book. I would tell her again and again, and all she would say was, "well, it's in your card."

I told her that maybe the code of that book got mixed up with the code of something else I did request – I do request a lot of books from the Children's and YA section – and she would say, "yes, maybe", but then her next sentence would be something like, "Are you sure you don't have it? Have you looked properly at home? Maybe you just forgot." She just assumed I was lying or making excuses.

I told her from the start that even though I had never set eyes on the book I was willing to pay for its replacement. I just wanted to understand how something like this could have happened, so that I could rest assured that it wouldn't happen again in the future. If there was someone out there requesting books with my library card number and never returning them, the safest thing to do would probably be to cancel my card. Unfortunately, she didn't take any of my concerns seriously, because she did not for a moment believe me. I pointed out that I had checked out and returned other books between the 4th and the 14th of December, before I went home for the holidays, and if I had a book overdue how come I wasn't reminded then? She said that the staff member I had talked to was probably busy and forgot to tell me.

Eventually she suggested that I go upstairs to the children's section to see if the book was there. I wish I had asked her to come with me. The book turned out to be there alright, and when I returned with it she gave me a suspicious took. I think she thought I had it hidden with me all along, and was pulling a stunt to avoid paying the £3 overdue fine. I told her I would pay it, but I still wanted to cancel my card, because I couldn't be sure that this wouldn't happen again in the future. She told me it wouldn't, because things like this did not happen, and she said she would "forgive me" the fine this time. The last thing she said to me was, "When you returned the book, you probably just put it back on the shelf. Just make sure you give it to a staff member next time."

Sigh. At this point, I wanted to tell her, "Excuse me, I've been using libraries since I was ten years old. Also, if you check on your records you will see that I have requested and safely returned over twenty books in the past few months. I think I grasp how this works." But I just said, for the tenth time, "Yes, that's what I always do. It's just that I never requested that book."

I love the libraries here, I seriously do. They are so much better than the ones we have back home. They have a great variety of books, the staff is normally friendly and helpful, and they are just nice, cosy, friendly places. I've only been here for a few months, but in those months I've gone there every week to request books. I've always returned them in time and undamaged. Also, I supported them by buying more books at their sales than I probably should have. Which is why it's so upsetting that this librarian just assumed I was lying and treated me like, to quote Dewey, a library pillager.

I really wouldn't have minded paying the fine – or even the replacement of the book if it hadn't been found. It's not about the money. I wouldn't have minded it if she had said, "Look, I believe you, but unfortunately the book got on your card somehow. Since we cannot figure out how, if you don't pay the fine we'll have to pay for it ourselves unless you talk to our superiors and explain this to them." Then I would have understood. But she never took me seriously, and that's why this is so upsetting.

I cannot for the life of me figure out how come that book was on my card. Since it turned out to be on the library, I think I can rule out the possibility of someone using my card number to steal books. The place where I found the book was quite close to the place where

The Ogre Downstairs

by Diana Wynne Jones is, and I think that when I checked that one out, the due date was the 4th of December. So I thought that maybe the codes of those two books got mixed up. Except that

Amelia's Star

did have a stamp with the 4th of December on it, so it was checked out by someone around that time. Maybe someone checked it out right after I checked out the Diana Wynne Jones book and it got put in my account instead of theirs? But since it was at the library, they obviously did return it, so how come the system didn't show it had been returned?

Has anyone had anything of this sort happen to them? Should I be worried about being accused of stealing books I've never heard of again in the future?

Anyway, the good news is that I found my first book for the Sci-Fi Experience there:

Slaughterhourse-Five

by Kurt Vonnegut. Today I managed to finish

Thomas the Rhymer

(one word: wow), so I'll start it tomorrow. I also got

Voices

by Ursula Le Guin for the YA Challenge, and

The Miraculous Journey of Edward Tulane

by Kate DiCamillo just because.