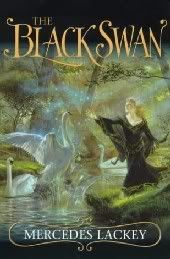 The Black Swan
is a retelling of the story of Swan Lake. I've never actually seen the ballet, but the Tchaikovsky piece is among my favourite pieces of classical music, and I grew up more or less obsessed with the 1981 Japanese animated movie version. So this story is one I've always had a soft spot for, and I was thrilled to find a novel-length retelling of it.
As most of you probably know, Swan Lake is the story of Odette, a princess who was cursed by a powerful sorcerer, the Baron Von Rothbart, and condemned to spend her days as a swan, only returning to her human form by moonlight. Prince Siegfried sees the Swan Maiden and falls in love with her. The Baron tells Odette that she will be released for her curse if her lover remains faithful to her, and then, with the help of his daughter Odile, comes up with a scheme to trick the prince into betraying Odette.
Like most fairy tale retellings, this one changes the story to some extent, and it especially changes the character's motivations. In Mercedes Lackey's version, the Baron has a concrete reason for having cursed Odette and all the other members of the flock of Swan Maidens. He is a self-righteous man whose goal is to punish devious and unfaithful women—or rather, women that he perceives as such. Of course, his definition of deviousness and unfaithfulness is rather different when it comes to men, most particularly to himself.
Prince Siegfried is also quite different in this version. He's immature and a womaniser for most of the book, but he does become more sympathetic as the story unfolds. Lackey also introduces a new character: Queen Clothilde, Siegfried's mother, who is the epitome of an evil Queen. She is a cold, calculating woman who spends her days scheming ways to keep her son from taking the throne away from her when he turns eighteen.
But the greatest of the changes is in Odile. A great deal of the story is told from her perspective—she is the Black Swan of the title—with a few chapters from Siegfried and the Queen's perspectives. I was glad that the story focused on her so much, because she is a character that always intrigued me. This novel is much more her story than Odette's. It's about the young woman's discovery of who she truly is, about her escape from the clutches of a manipulative father, and about her conquest of her own independence.

This is a gripping novel, and I enjoyed it. Unfortunately, the writing itself kept me from loving it. It was, for the most part, too overdone, leaving absolutely no room for subtlety. It was especially bad when it came to descriptions of the character's emotions. I found them so over the top that as a result the characters never quite felt genuine to me. An example:

Odile watched her father's back, swallowing involuntary bitter tears of disappointment and rejection, feeling her head droop a little as her heart sank with dejection.
In one single sentence we have the words "bitter", "disappointment", "rejection" and "dejection" thrown at us. A single one of those would probably have been enough to convey Odile's state of mind. All of them together are, well, a bit too much for me. Another example:

If she could have wept, her tears would have burned furrows down her face, so bitter were the dregs of degradation that she drank at that moment.
See what I mean? I have to admit that the writing really bothered me at first, so much that I pondered putting the book aside. But after about fifty pages I got so lost in the story that I forgot about it, or perhaps I just got used to it.

For someone reasons, in my head I always associated Mercedes Lackey with Robin McKinley and Patricia A. Mckillip. They are all female fantasy authors that have written fairy tale retellings, and they're also authors that have been recommended to me repeatedly over the years. I had always assumed that when I finally got around to reading them they would become favourites of mine. My first experience with Robin McKinley was a very good one; I've yet to try Patricia A. Mckillip's novels, but, judging by her short stories, I think I'll really like her; however, I don't think Mercedes Lackey could ever become a favourite of mine.

But by this I don't mean that she's bad. She might not be the most lyrical of writers, but she is clearly a gifted storyteller. I'm still interested in reading her Elemental Master series, in which each book is based on a fairy tale. I guess that with her I will always find an enthralling story, even if not exactly beautiful prose. And while a book that I don't think is well written could never become a favourite of mine, I can still spend some pleasant hours lost in its pages. Of course, the less I like the writing, the more I have to like the story to remain interested. Mercedes Lackey does seem to be capable of writing stories that are strong enough to keep my interest despite her shortcomings as a writer.