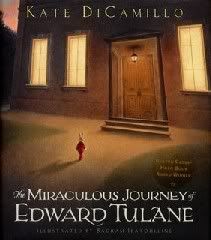 Edward Tulane is a china rabbit especially made for a little girl named Abeline by her grandmother, on the occasion of her 7th birthday. Abeline loves Edward very much, but Edward is vain, conceited, detached, and not at all concerned with feelings.
His life changes when the Tulanes go on a cruise, and midway through the journey he falls overboard. The fear he feels as he descends to the bottom of the ocean shatters his numbness. After that, Edward comes to be owned by a fisherman, Lawrence, and his wife, Nellie, who call him Susanna; by a homeless wanderer, Bull, and his dog Lucy, who name him Malone; by an old lady who uses him as a scarecrow, and by a young boy called Bryce and his ill little sister, Sarah Ruth, who name him Jangles. Throughout his miraculous journey, Edward Tulane learns to love, to lose, and to love again.
It seems to me that there is a tendency nowadays to think that happiness is to successfully avoid disgrace for your whole life. We look at those who have endured a great loss – widows and widowers, orphans, parents who have lost a child; you name it – with a mix of pity and awe. How did they survive, we wonder? They are braver and stronger than we are. But the truth of the matter is that they are just like any of us. Having the courage to go on after a great loss is certainly admirable, but if you think about it, it is fortunately more common than the opposite. Because that's what humans do – they pick up the bits and pieces of their broken hearts, and they move on.
I am so glad to have found a book that is not afraid to tell children that at some point in their lives they are bond to experience loss. We all do. A love that does not last; a friendship that is irreparably damaged; the loss of a grandparent, a parent, a friend. These experiences are painful, of course, but trying to sweep them under the rug is not very wise.They are all part of what it is to be human, and happiness does not consist in somehow miraculously avoiding them. An important part of being happy is being able to enjoy every moment with the people who mean something to us, even though not all of them will always be a part of our lives. It is not letting loss harden our hearts, not letting the fear of getting hurt control us. We all get hurt sometimes. It's part of being alive.

I hope I'm not making this book sound too dark and heavy for children, because it really isn't. It's a book about love and loss, but it's a hopeful and uplifting book. Kate DiCamillo deals with these themes in a way that is just right for children. I really don't know how she does it. Her stories have a point, but they don't moralize. Her stories are sweet, but not saccharine. Her stories are tender, but not sentimental. She knows when to let feelings flow, but she also knows when to hold back, and through the combination of the two she reaches the exact right emotional pitch.

I was surprised when Carl and Chris said that this book was even better than

The Tale of Despereaux

, but now, even though I'm still not sure which one I prefer, I see where they are coming from. This is a great story, and the book itself is a thing of beauty. Bagram Ibatoulline's illustrations certainly add to the magic: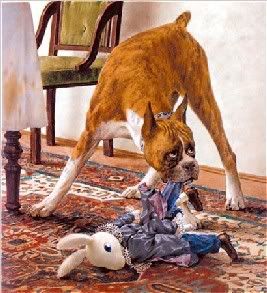 I wish Kate DiCamillo had been around when I was a child. I would have liked to have been told the things her stories say. Fortunately, for me it is never too late to read stories about china rabbits, princesses and mice.

To read the first chapter, visit the book's charming website: here.



Other Blog Reviews:


Stuff as Dreams are Made On
Stainless Steel Droppings
Here, There and Everywhere
Becky's Book Reviews
Maw Books
Bending Bookshelf