Santa was very generous this year: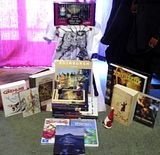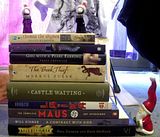 Between my boyfriend and my family, I ended up with 9 new books! I also got some DVDs, a Tim Burton's Oyster Boy PVC set, and a lot of candy. Also in the pictures are the gifts I gave myself. I have this little tradition of picking up one or two little things for myself when I go Christmas shopping, and I usually wrap them and put them under the tree. I think it's good to also remember to be kind to ourselves at this time of the year. This year, I got myself a little Arthur Rackman diary, an Edinburgh calendar, and a Disney Alice in Wonderland t-shirt that I absolutely fell in love with at first sight. The picture isn't too clear, but it has Alice, the Cheshire Cat and the Mad Hatter, and it says, "We're all a little mad here". Anyway, the books I got were:
Thomas the Rhymer by Ellen Kushner

Dogsbody by Diana Wynne Jones

Girl with the Pearl Earring by Tracy Chevalier (I already owned this book – it's one of my favourites – but my boyfriend got me a gorgeous hardcover edition with extra material)

The Book Thief by Markus Zusak

Castle Waiting by Linda Medley

Laika by Nick Abadzis

The Complete Maus by Art Spiegelman

A Contract with God by Will Eisner

Mirrormask: The Illustrated Film Script by Neil Gaiman & Dave Mckean
The best part is that a lot of these are challenge books for 2008. I also got a 20 euro gift card for a new bookstore that opened in town, so pretty soon I'll go there and turn that into another couple of books. I'm thinking of picking up Ali Smith's

Girl Meets Boy

, and I have to see what else. The sad irony about getting so many books is that I've had absolutely NO time to read lately. I've been reading

Watership Down

for over 2 weeks now. And frustratingly enough I have been really, really enjoying it, but I never seem to be able to spend more than half an hour with it at a time. Hopefully things will improve soon and I'll manage to finish it by the weekend.

What about everyone else? How was Christmas? And since we're on the subject of gifts, have you noticed that Em is having a huge book giveaway at her blog? She's giving away 7 books! To be entered in the giveaway, all you have to do is leave her a comment before the 31st of December saying what your favourite YA read of the year was, and plus the title of a YA book you'd like to read but don't yet have. Head over there right now!