After finishing
The Last Hero
, I came to the computer to write my review, and then I came across
this news
. It looks like the false alarm earlier this year wasn't false after all. He's being incredibly optimistic about it, and I admire him endlessly for it, but still, this is terrible news. Alzheimer's is my worst nightmare. I know that he will most likely still be among us for many years, and like he said there's even time to write more books, but I wish he didn't have to go through this.
Terry Pratchett is not only one of my very favourite authors, but he's also someone I admire a LOT. From his books, interviews and etc. you can tell that he is an incredibly intelligent, grounded, sensible and perceptive person. He understands people and how they work - both the good and the bad. And this is something that comes across very clearly in his stories, and it's one of the reasons why I love them so much. He is incredibly insightful about a huge variety of issues. I often jokingly tell my boyfriend that I would vote Terry Pratchett for president of the Universe (or rather, Multiverse). And I know that he is asking people not to mourn him, but it's really upsetting that someone so amazing and brilliant has to face something like this. But of course, it's not like amazing and brilliant people don't have to face serious illness all the time. Curiously enough, I have just finished a book by him in which a group of nonagenarian heroes decide to confront the Gods, and one of the reasons why is the fact that they are tired of the unfairness of old age. On with the review...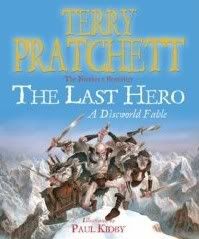 In
The Last Hero
, Cohen the Barbarian and the Silver Horde, a group of aged heroes, decide to climb the mountain of Cori Celesti, where the Gods live. The first hero stole fire from the Gods, and now they are bringing it back. They kidnap a minstrel and bring him along, so that there's someone to write the Saga and their deed can be remembered. What they don't know is that blowing up Cori Celesti will open a hole through which the Discworld's magic will leak - and it is magic that holds the Disc together.
To stop this impeding doom, a mission is put together: Rincewind the Wiz
z
ard, Carrot of the Watch, and Leonard de Quirm (plus one unexpected, hidden passenger) go on a flying machine named
The Kite
to try and stop the old Barbarians. And of course, their journey turns out to be quite interesting in itself.
I always say that the Rincewind subseries is my least favourite Discworld subseries. However, I still like it better than a great deal of the other things I read. And within my least favourite Discworld subseries, this is by far my favourite book. I suppose it is a Rincewind book, but there is as much of him as there is of Cohen, of the other Wizards, of the Patrician, of Carrot and of Leonard de Quirm. Plus, it's more reflective and philosophical than the Rincewind books normally are. It's more like a Death book in that way. What we have here is a tale about the place that we humans occupy in the universe, and about the importance of stories and of memories - how they hold us together, and how they urge us on.
No one remembers the singer. The song remains.
Which is to say, the stories remain.
The book is richly illustrated by the wonderful
Paul Kidby
. That alone would make it worth having, even if the story wasn't a brilliant one - which it is.
I swear, this review was much more coherent in my head, but I guess being this sad is getting in the way of making sense. My apologies