First of all, I wanted to let you all know that I'll be absent from blogland for a short while. Tomorrow I'm flying to Edinburgh with my boyfriend for the weekend. Scotland is one of those places I've always really wanted to visit, so, needless to say, I'm excited. Then on Monday evening we fly from Edinburgh to London, and VERY early on Tuesday we fly from London to Portugal where we'll spend the holidays. All 3 flights are on different companies, each with their own regulations concerning luggage. Packing has been a nightmare!
I was doing well when it came to buying books where in England. Obviously I did buy some, but there were many instances in which I managed to resist temptation. But that was until my local library had a big sale: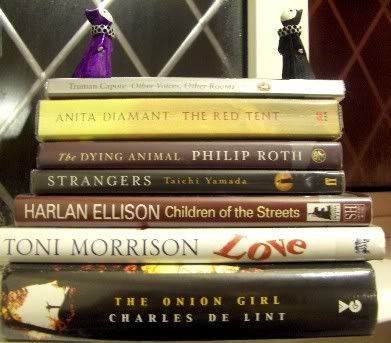 The Onion Girl by Charles de Lint - Like I promised Rhinoa, 2008 will be the year when I finally read him. I've no idea if this is a good book to start with, but I will probably read "Waifs and Strays" first anyway.

Love by Toni Morrison - I really want to read more of her work.

Children of the Streets by Harlan Ellison - He's an author I've never read but always wanted to.

The Dying Animal by Philip Roth - Same as above.

Strangers by Taichi Yamada - I had never actually heard of this author, but the blurb caught my attention: "This is a disconcerting, yet deeply satisfying novel: a wonderful study of grief and isolation, a moving expression of our longing for things we have lost and are unable to have again." Plus: "Restrained and moving... what might have been a simple ghost story evolves into a psychological acute portrait." It sounds great, and at 20p, how could I resist?

The Red Tent by Anita Diamant - I've read some great reviews of this one. It's a retelling of the Old Testament story of Dinah, Jacob's daughter.

Other Voices, Other Rooms by Truman Capote - I LOVE this book, and yet until today I didn't own a copy.
And let me not get started on the books by Ursula Le Guin, T.C. Boyle, Joyce Carol Oates and Alice Hoffman that I left behind because they were big heavy hardcovers I knew I could never take home. Even these will be complicated, but considering that I paid £2.5 for all seven, it'll be worth it even if I end up having to mail them to myself. Plus... I needed something to cheer me up today, and a book haul is just perfect for that.

I'll leave you with a few pictures I took of the frozen lake at University this morning. I love how the birds are walking on the lake. It's been wonderfully cold lately - if the sky hadn't been clear I'm sure it would have snowed. Of course, if it does snow while I'm away from the holidays I'm going to be seriously upset.