Hello everyone! I made it home safely. As much as I enjoyed my travels, it's good to be home. I missed my family, and my cats and dogs, and being surrounded by all my books.
I had a wonderful time last weekend. Scotland surpassed my expectations, which were high to begin with. Edinburgh is quite possible the most beautiful city I've ever been to. I'll post some pictures later, of course. Right now I just want to share what I found waiting for me when I got home - my Secret Santa gift: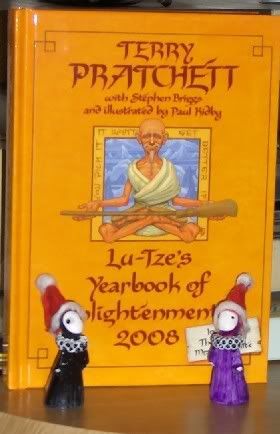 Thank you so much,
Jean Pierre
! I always wanted to get one of the Discworld diaries, but I'd tell myself I might as well get the books I didn't yet have first. But now I am finally up to date on the books, so I was thinking of getting the 2008 diary. Luckily my Secret Santa did it first! Once again, thank you for this perfect gift!
I see that a lot of you also got your gifts in the time I was absent. I can't wait to find out what everyone got. I'll catch up on all your blogs soon, but I need to catch up on sleep first. I spent all of last night at the airport, so I'm quite exhausted.