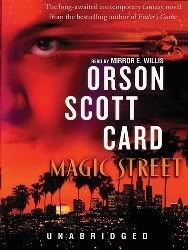 Dreams are the stuff that life is made of.


Magic Street
opens with a very strange birth: a woman has a baby after only one hour of gestation. After the baby is taken away from her in mysterious circumstances, she has no memory of what happened. About an hour later, in another area of the L.A. neighbourhood of Baldwin Hills, a young boy named Cecil Tucker finds a baby inside a grocery bag, covered with ants. The baby ends up being taken in by Ura Lee Smitcher, Ceese's neighbour, and Ceese helps bring him up.
Mack Street, the baby, is still very young when he realizes that he can see and feel things that nobody else can. He calls these "cold dreams" – they are instances in which he can see the deepest unspoken wishes of someone in the neighbourhood, and, if he doesn't interrupt the dream before its end, something strange, and inevitably terrible, always happens to the person involved. What is happening is that something, or someone, is granting people's secret wishes, but with a twist – which is why Tamika Brown, a young girl who loves to swim, wakes up one night inside her parent's water mattress.
This is a modern story in a modern setting, but it also involves Faerie lore and character's from Shakespeare's
A Midsummer Night's Dream
: changelings, an entrance to faerie land, Puck the tricksters, and Oberon and Titania and their eternal quarrel.
This book was a lot darker than I expected it to be. Tamika Brown's story is nightmare inducing, as are some of the other consequences of the cold dreams. There were also humorous moments in the book, though – the mood goes changing as the story moves along. Something else I liked was how Orson Scott Card mixed the belief in the Fay folk with other mythological traditions, as well as with stories about William Shakespeare himself. Titania and Puck claim to have known him, and this reminded me of what Neil Gaiman does in The Sandman, and it made me smile. Shakespeare was obviously a man who understood people and their emotions better than they often understand them themselves, so one can see where tales about him having been touched by some sort of magic or power would come from.

There were several instances in the book where I feared that the story would take a direction that would disappoint me – settle for too simplistic a solution, become too obvious. But in every one of those instances I fortunately turned out to be wrong. The book is not obvious, although it could easily have been so. But Orson Scott Card plays with the reader's expectations. Like a glamour cast by a Fairy, the book deceives us, only to set us back on track later on.

While I did not like this book quite as much as the lovely

Enchantment

, it was still very much a worthwhile read, and I certainly plan on reading more of Card's work in the future. This was my last read for the 2nds Challenge – thank you Joy for hosting this great challenge and motivating me to read more books by great authors.



Other Blog Reviews:


Dog Ear Diary