It's been so long since I decided in my head to join
Dewey's Booker Challenge
that I actually forgot I hadn't yet posted my official list. It might seem crazy to join another challenge when I've been complaining about how many I've joined for 2008 already, but you see, as I had already decided to join this one, I was already counting it when I complained. I hope that makes sense outside my head. Anyway, here's what I'll be reading:
Paddy Clarke Ha Ha Ha by Roddy Doyle

The Famished Road by Ben Okri

Midnight's Children by Salman Rushdie (also for the Book Awards reading challenge)

In a Free State by V.S. Naipaul

The Blind Assassin by Margaret Atwood

Schindler's List by Thomas Keneally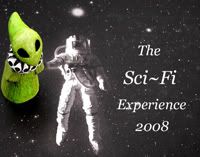 The second thing I'm joining is not quite a challenge - it's Carl's
Sci-Fi Experience
. There are no commitments and no pressure. The goal is to, during the months of January and February, read as many science fiction books or short stories as one can manage, or feels like, or to simply read the participant's reviews and participate in the discussions.
I am not a big reader of science fiction, but I absolutely love fantasy, its "twin genre", so I really want to give science fiction a try. I'm not going to make a list of what I'm going to read - not even a list of ideas or possibilities, because every time I make a list I feel somehow obliged to follow it. What I'll do is just walk to the library, go to the science fiction section, and see what catches my fancy. My choices will depend on what I find there, because I am absolutely forbidding myself from buying books in January and February - I cannot add to the pile of books to bring when I come back here for good at the end of February.
Anyway, the library has a pretty big Sci-Fi section, so I'm sure I'll find something good. A book I'd like to read is Orson Scott Card's Ender's Game. There's also Ursula Le Guin's
The Left Hand of Darkness
, which I have to read before June for the Book Awards Reading Challenge anyway. Other than that, we'll see what I find, and how much time I have. I don't think January and February will be very good reading months, but I should manage a book or two, and there are always short stories to be read online at places like
Strange Horizons
.