One of my favourite things about Christmas is Christmas music. I start listening to it on mid-November and don't stop until January. So I thought I'd start by sharing the video to one of my favourite Christmas songs: "Put the Lights on the Tree" by Sufjan Stevens.
Sufjan Stevens is my favourite musician, and, not surprisingly, his Christmas songs are my favourite. He has a boxset called "Songs for Christmas" that contains 5 CDs of both original songs and traditional Christmas classics. One of the reasons why I love his songs so much is the fact that they manage to be both moving and tender and goofy and fun, like the one I posted the video for. And during the month of December, you can
stream these 5 CDs for free
over at his label's website! I urge you all to go over there and give them a listen. You can also download an mp3 of what happens to be my favourite song in the boxset: "That Was the Worst Christmas Ever". Head over there now; you know you want to!

Another of my favourite things about Christmas is, of course, the food. What is your very favourite Christmas recipe? Mine is a traditional Portuguese Christmas dessert called Sweet Rice. Sweet Rice is a kind of rice pudding flavoured with cinnamon and lemon, and its smell somehow captures the very essence of Christmas for me. It is a smell that is intertwined with my earliest Christmas memories. My mother always makes Sweet Rice for Christmas, and goes on making it until my birthday in early January, which marks the very end of the Christmas festivities in my house. Here is the recipe for Sweet Rice:

Ingredients for about 6 servings:

250 g (9 oz.) of long-grain rice

200 g (9 oz.) sugar

Zest of 2 lemons

750 ml (3 cups) of milk

3 egg yolks

1 cinnamon stick and ground cinnamon
1. Cook the milk, rice and sugar on medium heat. Add the cinnamon stick and the lemon zest and let the rice cook for about 30 minutes.

2. Remove from the heat and add the egg yolks. Return to very low heat and stir while the egg yolks cook.

3. Pour into a dish or bowl, and decorate with the ground cinnamon. My father always decorates it with the loveliest Christmas patterns.

There! Not only it is delicious, but also very inexpensive and easy to make. And oh, how I love the smell of lemon and cinnamon together.



Another thing I love about Christmas are the stories. I try to read as many as I can every December. What are your favourite Christmas stories? One of mine is Truman Capote's very moving "A Christmas Memory", which you can read online here. It's a beautiful and nostalgic story and I never tire of re-reading it. Go over there if you have a half hour to spare. I don't think you will regret it.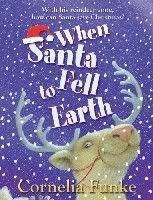 And of course, we can't talk about Christmas without mentioning gifts. Which is why I am giving away a copy of Cornelia Funke's When Santa Fell to Earth (I posted a mini-review of it here), along with some surprise Christmas treats. To be entered in the draw, just leave me a comment letting me know you're interested until Tuesday the 11th of December. I will announce the winner on Wednesday and mail it out on Thursday. Please feel free to enter even if you already have the book, but would like another copy to give to someone.

That's all I have for you today. Don't forget to visit the rest of the Advent Calendar!

9 December - Raidergirl (an adventure in reading), Chris (Stuff as dreams are made on)
10 December - Dewey (The Hidden Side of a Leaf)
11 December -Suey (It's All About Books)
12 December - Chris (Book-a-rama)
13 December - Jill (The Well-Read Child)
14 December - Robin (A Fondness for Reading)
15 December - Alyssa (By The Book)
16 December - Rachel (A Fair substitute for heaven)
17 December - Literary Feline (Musings of a Bookish Kitty)
18 December - Dev (Good Reads)
19 December - Callista S.M.S. (Book Reviews)
20 December - Tiny Little Librarian (Tiny Little Librarian)
21 December - Carla (Carla Nayland Historical Fiction)
22 December - Carolyn Jean (The Trillionth Page)
23 December - Booklogged (A Reader's Journal)
24 December - Kailana (The Written World) / Carl V. (Stainless Steel Droppings