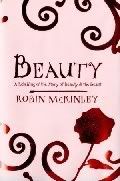 The subtitle of this book says it all:
a retelling of the story of Beauty and the Beast.
At first glance that leaves no room for any mystery, but those who enter this tale expecting complete familiarity will be surprised. This is, no doubt, Beauty and the Beast, a story we all know, but Robin McKinley made the story refreshing – she made it her own. She stretched the tale in unexpected directions will still maintaining the shape one would expect. The surprises are mostly in small details, but these make all the difference.
For example, in this story, Beauty is an awkward bookworm, whose physical beauty pales in comparison to that of her sisters. Her actual given name is Honour, and she thinks it is a sad irony that she ended up with the nickname Beauty, as she is in no way worthy of. As the story unfolds, we realize that she is, in fact, very worthy of both names.
In this version of the story, Beauty's sisters, Grace and Hope, and not selfish or vain, but warm-heated and well-meaning girls. The way the sisters' relationship was portrayed was very interesting. Sisterly love and family ties in general play a very important role in the story. Also, the sisters themselves, their personalities and their own love stories play a much more important role in this retelling than in the tale we all know.
This novel is full of details I absolutely loved. For example, at the Beast's palace Beauty finds a library with all the books that have been written, as well as the ones that have yet to be written. She reads the works of Robert Browning, T.H. White's wonderful
The Once and Future King
and the adventures of Sherlock Holmes. This last one is difficult for her, since she has no idea of what things like telephones or motor cars are.

Robin McKinley kept me turning the pages of this story as if I didn't know what would happen next. Her writing is at once simple and poetic, and it carries the story along beautifully. The novel is told by Beauty herself, who is a wonderful narrator and tells her tale at the exact right pace.

My only complaint about this book was that I found the ending a little too happy. I mean, we all know Beauty and the Beast is a story with a happy ending, so I didn't expect this to be any different, but the novel ended at too perfect a moment. Does that make sense? I guess I'm used to fairy tale retellings with a little bit of melancholy, a little bit of ambiguity. But this is really just a side note. The ending didn't keep me from thinking that this is an absolutely wonderful fairy tale novel.



Reviewed at:


Rhinoa's Ramblings
Framed and Booked