I am so behind on my reviews! This did not use to happen. But the last few weeks have been crazy busy, and plus, after spending the whole day writing assignments, I just don't have the energy to write about books, even if it is something I enjoy doing. So, I'm going to do this the lazy way and just write a few paragraphs about the last three books I read:
When Santa Fell to Earth
by Cornelia Funke,
Monkey Beach
by Eden Robinson, and
The Dark Horse Book of the Dead
.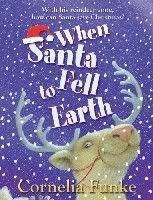 I got
When Santa Fell to Earth
thanks to
Debi's
recommendation, and let me tell you, she finds the best holiday books! First
The Halloween Tree
, and now this. This book tells the story of Niklas Goodfellow, the last of the real Santas. He might be young, thin and not have a beard, but he IS a real Santa, and his mission is to save the true meaning of Christmas from some Santas gone bad and their evil-Nutcracker minions. He has the help of his angels Matilda and Emmanuel, an invisible reindeer called Twinklestar, and a bunch of grumpy elves. Niklas makes friends with two children named Ben and Charlotte who, in the middle of helping him, learn to overcome their awkwardness and loneliness. I found this a very sweet and heart-warming little book, whose charm is considerably increased by Paul Howard's gorgeous pencil illustrations. For another opinion, read
Chris' review
.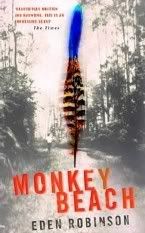 I read
Monkey Beach
for my Native Literature class. I normally don't review books I have to read for classes here because, well, I try to save the urge I have to write about a book after I finish it for the essays I actually
have
to write. It's silly, but I get afraid that if I write about it here, then forcing myself to go back to it later will be harder. But anyway, I am making an exception in this case because I want to recommend
Monkey Beach
to everyone. This is quite possibly one of my favourite reads of the year. It is the beautifully written story of LisaMarie, a girl aged nineteen who has felt different from those who surround her all her life. LisaMarie can see ghosts, has occasional visions, and, before anything tragic happens in her family, is warned by a leprechaun-like man who visits her at night. The book opens with a family crisis: the fishing boat where her brother Jimmy was disappeared, and LisaMarie decides to take a motorboat and go look for him herself. Her quest is intertwined with flashbacks that tell the story of her upbringing in the Native village of Kitamaat. This book would be a great pick for the folklore section of the next Once Upon a Time Challenge, as it is full of Haisla (a Native-Canadian community from the coast of British Columbia) lore, traditions and beliefs. The book's supernatural elements are perfectly interwoven with the poignant story of a girl growing up, trying to find her place, and constantly having to deal with loss.
For other opinions, see
Stephanie's Confessions of a Book-a-holic
and
Page 247
.
Finally,

The Dark Horse Book of the Dead

is a horror anthology edited by Scott Allie. It contains Nine Cautionary Tales of the Risen and Hungry Dead, Told in Words and Pictures, by writers and artists like Mike Mignola, Jill Thompson, Kelley Jones, and Robert E. Howard, creator of Conan the Barbarian. As often happens with anthologies, I liked some stories better than others, but all in all I thought this was a worthwhile read. My favourite stories were "Let Sleeping Dogs Lie" by Evan Dorkin and Jill Thompsons, a story involving zombie dogs and a cat-witch; "Kago No Tori" by Jamie S. Rich and Guy Davis, a beautiful Japanese tale of love and spirits of the sea; and "The Hungry Ghosts" by Kelley Jones, a tale of haunted woods with a chilling and surprising ending.