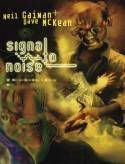 ...and I sat in the dark and thought: there's no big Apocalypse. Just an endless procession of little ones. Somewhere, the horsemen are riding. War and famine, illness and death.
Signal to Noise
tells the story of a filmmaker that discovers that he has cancer, and has very little time to live. When he receives this news, he was about to start filming a new movie: a story of a small village in Europe on the 31st of December of the year 999, when everyone believed that the new millennium would bring the Apocalypse. He refuses all treatment and shuts himself away, writing the script for a movie he knows he'll never make.
The premise of this story interested me right away, and the way in which it is told made it even better than I expected. The story the dying director is writing is intertwined with the story of the last few months of his life, and they compliment each other perfectly. We go from a general Apocalypse to a personal one. The word "apocalypse" tends to make us think of something extreme, but it can happen on a smaller scale too. A person's death. Forgetfulness. Loss.
Loss is at the very core of this book. This is the story of a man dealing with his own mortality and with the cruelty of cancer, and we watch his anger and powerlessness as his body fails him. And it is also story about art, about stories, and the meaning and light they brings to our lives – both to those who create them and those who receive them. It is a very powerful, moving and emotionally gripping story, and by the last chapter I was tearing up.
Once again, Neil Gaiman and Dave Mckean proved that they are a winning team. In the introduction to the book, Jonathan Carroll says: "The only problem I have with the work of these men is both are so good at what they do that I often find myself reading and not looking, or vice-versa". This is exactly what I feel when reading their books.
My edition of the book also includes three short stories: "Deconstruction" and "Hackers" by Dave Mckean and "Borders" by Neil Gaiman. Dave Mckean's stories were both very intriguing and a little unsettling. Neil Gaiman's "Borders" is a poem/story written for a book of stories celebration of the fall of the Berlin wall, and it's about the effect of walls, especially imposed ones, on human lives. I liked it a lot.