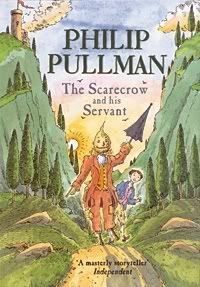 Before passing away, old Mr. Pandolfo decides to make a scarecrow. He uses a turnip for its head, a broom for its backbone, and an old tweed suit of his to dress it in, and inside it he places a letter wrapped in an oilskin for protection. The scarecrow is placed in a field, and there it could have remained. But one night there is a thunderstorm, and when hit by lightening, the scarecrow comes to life.
A young boy named Jack hears the Scarecrow calling for help, and he ends up becoming his servant. The two travel together, and their adventures include scaring a group of bandits with a ghost story, saving a robin's nest in the middle of a battle, being marooned on a tropical island, and having to face the Buffalonis, a strong and powerful family who wants to turn the beautiful Spring Valley, the place of the Scarecrow's birth, into an industrial wasteland.
In this book, Philip Pullman tells another extremely funny and very engaging tale. The characters are very likable – the Scarecrow is fearless but lacks wits; Jack is but a young boy, but he shows a lot of sense and is always getting his master out of trouble. Both are good-natured and kind, and the bonds of friendship that unite them are strong ones. The story has a few separate threads that come together marvellously at the end, in a happy but not sugar-coated resolution. The book's mood is that of a fairy tale, and the humour is simply remarkable.

Phillip Pullman uses this warm tale to poke fun at the silliness of the things that surround us, things that we often accept because that's the way they've always been – the senselessness of war, the absurdity of the way justice sometimes works, or fails to work, the tyranny of the rich and powerful over those with less influence.

This is a story that can be enjoyed by adults and children alike. But if you want to make sure this is for you, click here to read the first chapter at the author's website.