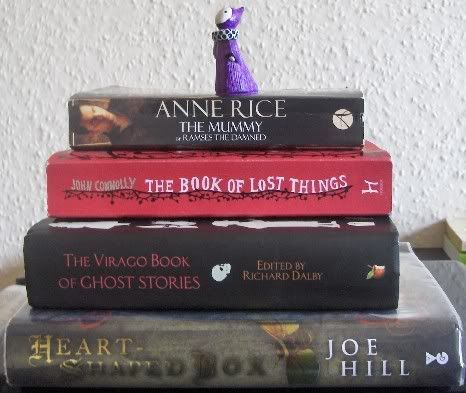 I signed up for Peril the First, and originally I made a
list of 5 books
for this challenge. I'm happy to say that I completed the list and managed to add a few extras! This challenge was a lot of fun. Carl once again showed that he is a perfect host. His challenges are always so dynamic - there are so many fun contests and activities that stimulate interaction between bloggers. That's one of my favourite things about them. And of course, there's the books themselves...
I borrowed this challenge questionnaire from
tanabata
:
Books completed
:
Best book I read for the challenge?
A tough question, because I honestly loved them all. Probably
The Book of Lost Things,
followed closely by
Heart-Shaped Box
,
Tideland
and
The Halloween Tree
.
Book I could've done without?
Not a single one!

Any new authors? Will I read them again?
Many of the authors were new to me. John Connoly, John Bellairs, Joe Hill, Mitch Cullin. I am definitely definitely reading more of their work in the future.

Best thing about the challenge?
Getting so many great reading suggestions from the other participant's reviews, and "meeting" great new bloggers like Lightheaded or gautami tripathy.

Thank you Carl for another great challenge!