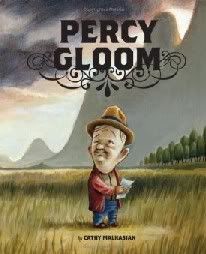 In the business of caution... we are unprepared for happiness.
When I spotted
Percy Gloom
at my local library, I knew right away that I wanted to read it. This is a recent book, and I had never even heard of it before, but the beautiful cover art lured me right away. It turns out that the book had just arrived, and I was the first person to be checking it out from the library. Have I mentioned how much I love my local library? But anyway.
This graphic novel by animated movie director Cathy Malkasian tells the story of Percy Gloom, a fragile, reclusive little man whose dream job is to be a cautionary writer. He manages to get a job at Safely Now, a cautionary writing company, where he tests everyday products and then writes about their hidden dangers – from the menaces lurking in hairbrushes to the serious hazards that are Encyclopaedia sets.
As the story unfolds, we are given more information about Percy's past. His father, a Gloom true to his name, committed suicide shortly before he was born. He lost his wife in tragic circumstances, and now he finds himself caught up in the cult of Yagapantha, a cult of immortality that is controlling the whole town. It seems that Percy Gloom as been surrounded by death for his whole life – or, more specifically, by an extreme and crippling fear of death.

This makes the story sound rather bleak, but that is not the case in the slightest.

Percy Gloom

is charming and funny and bizarre. The quote I used to open this post is from the very end of the book, and it sums up its very core: too much caution and too much fear of death get in the way of living in itself.

The book's beautiful artwork drew me to the eerie and fairy tale-ish world of

Percy Gloom

right away. You can see some of it at the book's website. There you can also find some recipes, listen to the Goat's Solstice Song, and learn interesting things about the author, like the fact that she considers Radiohead the best band on the planet. Another reason to love her! This is her debut book - I can't wait to see what she does next.