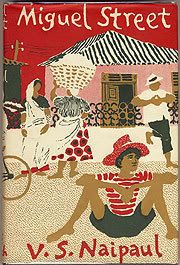 Miguel Street
is the first work by Nobel Prize winning author V.S. Naipaul (although not the first to be published). It is a semi-autobiographical collection of short stories interconnected by a common unnamed narrator: a young boy, growing up in Miguel Street – a street in a poor area of the city of Port of Spain, in the Caribbean island of Trinidad and Tobago – around the time of WW2.
At the start of one of the stories, the narrator tells us:
A stranger could drive through Miguel Street and just say 'slum', because he could see no more. But we, who lived there, saw our street as a world, where everybody was quite different from everybody else.


Indeed, each of the book's chapters tells a story about one of the inhabitants of Miguel Street – a story about an ordinary life filled with details that make it memorable and unique.
The narrator of these stories reminded me a little of Harper Lee's Scout. The fact that he is a child allows him to see things that most of those who surround him don't see. The stories are simple ones, and many are moving exactly because of that simplicity. My favourite was "B. Wordsworth", a touching story about the young narrator's friendship with an old man, a poet. Another favourite was the very last chapter, in which he tells us how he left Miguel Street forever, to study in England.
The stories are told from a point in the future after this departure, and thus they are filled with nostalgia for something that was lost. But this is a kind of nostalgia that does not romanticize things. He sees the flaws in the people who surround him, in his city, in his home country. The stories depict both poverty and a great sense of community, both love and domestic violence, both greatness and failure. But even when the darker sides of life are being described, there is always a great amount of tenderness behind every word.
Reading these stories made me miss a place I've never been to; it made me mourn the absence of people I've never met; it made me tear-up as much as it made me laugh. This is the second book I've read by Naipaul, and most definitely not the last.