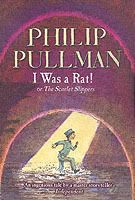 Bob and Joan are an ageing couple who never had any children. One day, a little boy in a page uniform knocks on their door. When asked who he is and where he came from, all he answers is, "I was a rat!"
Bob and Joan take him in, feed him and put him to bed. He says he doesn't have a name (because rats don't have names), so they call him Roger, the name they were going to give their son, if they'd had one. Roger turns out to be a lovely boy, even if a little ratty in his ways – he has a special fondness for gnawing on things, and he sleeps all curled up like a rat in its little nest.
The following day they try to find out who his parents are, but there are no reports of missing children in the city. So they decide to look after him for the time being, and they take him to school, but things there don't exactly go well. In the next few days, poor Roger becomes an object of study for the Royal Philosopher, an exhibit at a freak show, an unknowing member of a juvenile gang, and an imprisoned "monster" on whose extermination the safety of the city allegedly depends. Bob and Joan have to do everything in their power to save he who has become their little boy.
I Was a Rat!
is an extremely funny and intelligent book. In between the book's chapters there are front pages of "The Daily Scourge", the town's local paper, and those are especially hilarious. This charming story is about how we so often villanize others and refuse to see what's right in front of our eyes, just because dismissing them as evil is easier than trying to understand them and accepting their differences. It's a deeply human and endearing story told in a wonderful manner.
Before I read the book, I kept seeing blurbs and reviews that said this was actually a retelling of a well-known fairy-tale, but none would actually say which, or explain in what way, and when I started reading it I became utterly confused. Sure, the mood and the tone of the story were fairy tale-ish, but a rat turning into a boy is not the plot of any fairy tale I know. But after reading the book, I understood. This IS a retelling of a very beloved fairy tale, but the reason why nobody would say which is the fact that it would be a major spoiler for the story. Philip Pullman approaches the tale from a completely original angle, and that's one of the book's greatest strengths.
Philip Pullman is one of my very favourite authors, and once again he does not disappoint.
I Was a Rat!
is a lovely book that I strongly recommend to young and older readers alike.
Other Blog Reviews:
Nothing of Importance
Words by Annie
Valentina's Room
Stuff as Dreams are Made On