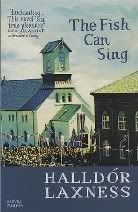 I must confess I had never heard of Nobel Prize winning-author Halldór Laxness until earlier this year, when there was a feature on him on a magazine I sometimes read. The article referred to him as "a Gabriel Garcia Marquez from the cold", and the comparison intrigued me. After reading this book I cannot say I quite see what they meant by it, but I have discovered an author whose work I enjoyed, and that's what matters most.
The Fish Can Sing
is the story of Álgrímur, a boy growing up in early twentieth-century Iceland. When he was a baby, he was abandoned by his mother, so he is raised by an elderly couple he calls grandmother and grandfather. They live in a cottage just outside Reykjavík, and as Álgrímur grows up and tries to find his path in life, his adoptive grandparents offer gentle and subtle guidance and support. The young man's life is changed when he meets Garðar Hólm, a famous Icelandic opera singer, and a love of singing starts to awaken in him.
This book is not exactly action-packed, but it tells such a tender and gentle story. It's also full of a very subtle kind of humour I really appreciate. The lives this story portrays are simple ones – not the simple lives of those who are not well-learned in the ways of the world, but the simple lives of those who have experienced their share of hardships, and know how wasteful it is to complicate things needlessly.

I absolutely loved this novel's setting. I've always been fascinated by Iceland, and I really like stories that are partially or completely set there, like A.S. Byatt's "A Stone Woman" or Elizabeth Hand's "Winter's Wife". But, unlike in those stories, the Iceland we find in this book is not a mythical one. It's not the Iceland of the old sagas, but rather a real place, a country trying to find its place in the world, much like the novel's young narrator. As much as I love mythical places, the change was a nice one.

Still, Halldór Laxness incorporated references to the Old Sagas in the novel. In the early twentieth century, storytelling around the fire was still the most common occupation in cold winter evenings, and so the old myths were very much a part of people's lives.

This book reads more like a collection of episodes, in the fashion of Naipaul's

Miguel Street

, than like a novel. This lack of an overarching story to make me keep turning the pages made the novel a slower read than a book of this length would normally be. But that was a good thing, because this is a book to be enjoyed slowly. I really look forward to reading more of Halldór Laxness' work.



Other Blog Reviews:


Flippism is the Key

---
This was my last read for the Reading Across Borders challenge:

Books completed:

The Fish Can Sing by Halldór Laxness
I ended up removing

Inkheart

from my original list - I included it at the time because I wanted an excuse to read it, but later I had to admit it didn't fit what the spirit of the challenge was (for me, anyway): reading literature from several parts of the world and learning about different countries and cultures in the process. But I'll be reading

Inkheart

for the YA Challenge next year, so no harm done.

Best book I read for the challenge?
There were quite a few I really enjoyed. My favourite was probably

Love in the Time of Cholera

, followed by

The Wonderful Adventures of Nils Holgersson

,

The God of Small Things

and

The Salt Roads

.

Book I could've done without?


Pinocchio

was a bit of a disappointment. For once the popular culture version of a story was, for me, better than the original. I also had mixed feelings about

Rainbow

and

City of Beasts

.

If on a Winter's Night a Travel

didn't work for me, but that might have been a matter of timing. Still, I can't say I actually regret reading any of these books.

Any new authors? Will I read them again?
A lot of new authors, actually. I will definitely read more books by Halldór Laxness, Nalo Hopkinson, Selma Lagerlöf and Joy Kogawa. But even with authors whose books I didn't enjoy all that much, like Isabel Allende and Banana Yoshimoto, I want to read more of their work, because I don't think I can judge them fairly based on these particular books alone.

Best thing about the challenge?
How it felt a lot like travelling without leaving my room. I learned a lot about different countries and cultures I didn't previously know all that much about.