I am back to blogland after a short absence. This week was Reading Week for the English Department, so I didn't have any classes. I did quite a bit of reading, but I also took some time off and visited friends in Manchester and saw some bands live. In the last couple of days I saw bands like The Arcade Fire, The Shins, Okkervil River and St. Vincent, just to name a few All were amazing, and I'm particularly happy I got to see them while I'm here because they're not bands I would catch in my little corner of the world.
I also got to visit the Manchester Art Gallery, which has a major collection of Pre-Raphaelite paintings. They were amazing. I particularly loved "Ophelia" by Arthur Hughes, which can be seen
here
but is much more impressive live,
"The Bower Meadow"
by Dante Gabriel Rosetti, and
"Hylas and the Nymphs"
by John William Waterhourse.

But anyway. I finally caved in and decided to join some challenges for 2008. The first is the Themed Reading Challenge, hosted by
Wendy at caribousmom
. It is a wonderfully flexible challenge. All you have to do is pick at least 4 books that fall under whatever theme you want, and read them between January 1 and June 30. I decided to pick WW2 as my theme. Why such a bleak, depressing theme, you ask? I have quite a fascination with WW2 literature, and it's not because I enjoy reading about violence, misery and death, because I don't. It's just that I think that extreme situations, of which WW2 is a prime example, work like a microscope for human thoughts and emotions and actions. Everything gets amplified, and you get to see people at their very worst, but also at their very best. There are stories of death and violence and complete and utter despair, but also stories of hope and courage and survival. And of course, I also think it is important to remember these things. The books I'll be reading for this challenge are:
Number the Stars by Lois Lowry

Maus by Art Spiegelman

Night by Elie Wiesel

The Book Thief by Markus Zusak

If This is a Man by Primo Levi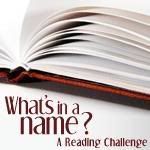 The second is the What's in a Name? Challenge, hosted by the wonderful Annie. This challenge lasts the whole year, and you only have to read 6 books. I thought that coming up with a list would be hard, but it was actually easy (and fun!), and I managed to fit in books I've been meaning to read for a long time:



1. A book with a color in its title.


The Green Man edited by Ellen Datlow & Terri Windling (about time I read this one!)



2. A book with an animal in its title.


King Rat by China Mieville (I've been meaning to read Mieville for quite some time)



3. A book with a first name in its title.


Jane Eyre by Charlotte Brontë (For the first time, yes. But better late than never!)



4. A book with a place in its title.


The Secret History of Moscow by Ekaterina Sedia (this one sounds too good to pass)



5. A book with a weather event in its title.


The Tempest by William Shakespeare (Another one I've been meaning to get to for ages)



6. A book with a plant in its title.


Black Orchid by Neil Gaiman & Dave Mckean (thanks for the idea, Chris!)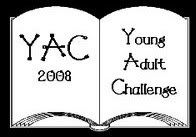 The third is the Young Adult Challenge, hosted by Joy at Thoughts of Joy. Joy always comes up with such great challenges! I really love YA literature, and this one also lasts the whole year, so I couldn't resist. Plus, a lot of my favourite authors write YA, so this is a perfect excuse to read books of theirs I haven't read yet. Here's my list:

Archer's Goon

by Diana Wynne Jones


Across the Wall

by Garth Nix


The Ruby in the Smoke

by Phillip Pullman


Voices

by Ursula Le Guin


One for Sorrow

by Christopher Barzak


Over Sea, Under Stone

by Susan Cooper


A Wrinkle in Time

by Madelaine L'Engle


Pay the Piper

by Jane Yolen and Adam Stemple


Inkheart

by Cornelia Funke


Charlotte Sometimes

by Penelope Farmer


The Foundling and Other Tales of Prydain

by Lloyd Alexander


The Bromeliad Trilogy

by Terry Pratchett
And the last one is a different kind of challenge. My blogger friend Rhinoa and I decided that in 2008 we're going to read 5 books the other loves and that we haven't read yet. We have similar taste in books, so I really think I will enjoy the books she picked for me:

The Black Jewels Trilogy

by Anne Bishop


Waifs and Strays

by Charles de Lint


The Other Boleyn Girl

by Phillippa Gregory


Daughter of the Forest

by Juliet Marillier


Lolita

by Vladimir Nabakov

You can see what the five I picked for her are in this post. Also, like she said, it'd be fun if other bloggers decided to pair up and do the same!