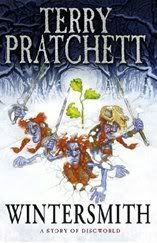 Wintersmith
is yet another book in the Tiffany Aching series, a series of Discworld books for younger readers. In this book, Tiffany is staying with Miss Treason, a 113 year old witch about whom the most gruesome tales abound. Miss Treason is teaching Tiffany about witchcraft, and one day she takes her to see the Dark Morris dance. As you may know, the Morris dance is a folk dance traditionally performed to welcome Summer. In the same way, in the Discworld the Dark Morris is supposed to welcome Winter.
While watching the dance, Tiffany listens to her feet rather than to her thoughts, and she cannot control the urge to jump into the dance. In doing so, she calls the attention of the Wintersmith, the personification of Winter itself, and she unwillingly enters one of the oldest stories ever told: this is the story of Persephone and Hades, the story of the Summer Lady hiding underground until the time comes for the snow to melt and for life to resurface. As a witch, Tiffany knows it's her responsibility, once she enters a story, to see it to its end.
This book features extensive appearances by some of my favourite Discworld characters, Granny Weatherwax and Nanny Ogg. I am of course also very fond of the Nac Mac Feegle and of Tiffany herself. These characters alone would be enough to make me love this book, but there is a lot more in it to love.
I have always loved the role that witches play in the Discworld. As it is said at some point in
Wintersmith
, witches know a lot more than most people, but they actually know enough not to think that makes them better than anyone else. Witches are there when lives begin and when lives end. They are healers, confessors, judges, juries, caretakers, midwives and undertakers. And, as often happens with those who know more than people are comfortable with, they are respected, but not necessarily liked. They inspire both trust and fear, both gratitude and resentment.


The books in the Witches subseries are always full of little moving moments, and this one was no exception. There's the moment when Tiffany gives Granny Weatherwax a white kitten, there's the interaction between Tiffany and Miss Treason, there is Tiffany telling Annagramma, another young witch, that she does not, in fact, have ANY better use of her time than to listen to people who go see her just because they are lonely and they have no one else to talk to.

Terry Pratchett is most famous for his humour – which is indeed remarkable – but the reason why I love him so much is his… humanity. His books, particularly the Death and Witches books, are full of a deep understanding of how people work, and of… both the smallness and the greatness of things. Some things are silly and small in the great scale of things, but perhaps that is the reason why they matter so much to us. And some things are actually very big deals, and that might be why we prefer to close our eyes to them. I think that perhaps his remarkable sense of humour would not be possible without this deep humanity.



Wintersmith

reminded me a little of

Witches Abroad

and

Hogfather

in the way it deals with the power of stories – old stories, stories that humans have been using to make sense of the world for as long as they've been human.

I absolutely love Tiffany Aching. She is surprisingly mature in some ways, but at the same time she is a perfectly believable thirteen-year-old. She's odd, but also easy to relate to. She's down-to-earth, but she has a vivid imagination. She's strong-willed, but also considerable and she understands people. Having said this, I do miss a "proper" witches book, focusing mostly on Granny Weatherwax and Nanny Ogg. They are very much present in this book, but naturally they are mostly seen from Tiffany's perspective, so we don't get to see their interaction in the same way as in some of the other books.

One thing that actually surprised me about this book was the fact that Terry Pratchett seems to have made an effort to contextualize readers who might not have ever read a Discworld book before. This is a book that would make sense to a first time reader. Of course, those who've read other books will pick up certain little references, but these are not actually essential to an understanding of the story.

The first book in the Tiffany Aching series is

The Wee Free Men

. If you're one of the people who've always wanted to read Discworld but are intimidated because there are so many of them and you don't know where to start, do consider starting with this series. It will give you a taste of what Discworld is like without demanding any prior knowledge. It will also give you the chance to read some of the best YA literature I have ever come across.



Other Blog Reviews:


Rhinoa's Ramblings
Books & Other Thoughts
Read Warbler
Adventures in Reading
A Striped Armchair
Everyday Reads
Scrap Girl
Fyrefly's Book Blog