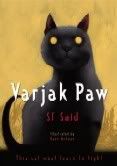 Varjak Paw is the youngest kitten in a family of pure-breed Mesopotamian Blues. His is a family of distinct cats: they eat the best food, they play with the best toys, and they don't go Outside. In fact, everything Varjak knows of the outside world is due to the tales his grandfather tells him, tales that have been passed on through the generations. Varjak is not very popular among the family – pure-breed Mesopotamian Blues are supposed to have green eyes, and his eyes are amber-coloured. Besides, his curiosity about the world and about the tales he is told about it is not, his family says, becoming for a cat of his calibre.
The family lives in a large mansion, the Contessa's house, but lately things have been changing. They haven't actually seen their mistress in a long time, and there are rumours that she might have passed away. When a strange Gentlemen and his two eerie black cats begin to visit the house, Varjak realizes that his family is in danger, and that it's only by going Outside that he might have a chance to save them.
I am a fan of children's and YA books, but among these there is a particular kind of book that I like best: books like Neil Gaiman's
Coraline,
Terry Pratchett's Tiffany Aching series, or anything by Philip Pullman or Diana Wynne Jones. These are books for younger readers that adults can read in a whole other level. Books that you find something new in if, after reading them as a child, you revisit them later on. I was hoping that
Varjaw Paw
would be one of these books, but, for me, that didn't turn out to be the case.
However, this is not to say that I didn't like it. It's an engaging, fast-paced and entertaining story. It is also not to say that it was a superficial book. It spoke of the importance of both friendship and self-reliance, of wisdom and humility. What I thought it perhaps lacked was a certain subtlety in the way these points were made.

But I am more than happy to read a book just to be entertained by a well-told story, and that was what happened in this case. Varjak Paw was a good character, and so was Holly, the street cat he befriends. I was even fascinated by the dreaded Sally Bones, the mysterious white cat that rules the city's streets, and I hope the sequel will have more about her.

I think this is a book I would have enjoyed more at a younger age, but I am still glad to have read it, and like I just said I am interested in the story enough to want to read the sequel. Sometimes that is all I ask for in a book. Besides, Dave Mckean's wonderful illustrations alone would have been enough to make this book worthwhile.


Other Blog Reviews:
A Fondness for Reading

Stuff as Dreams are Made On
Rhinoa's Ramblings
Katrina Reads
The Hidden Side of a Leaf