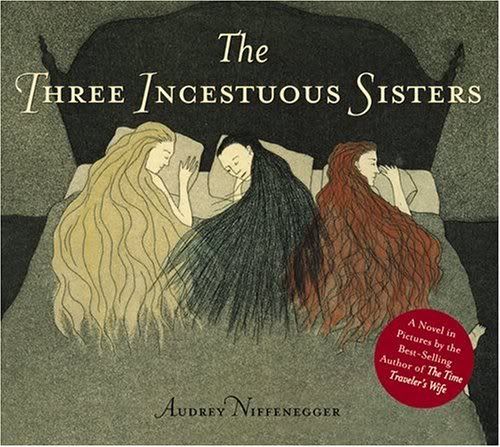 This recent post by
Dewey
got me thinking that I haven't read many graphic novels at all in the past few months, and that I miss reading them. For this reason, I decided to visit the graphic novel section when I went to return some books to the local library, and this book caught my eye.
I had never read anything by Audrey Niffenegger before, but after reading
reviews by fellow bloggers
I am quite sure I will love
The Time Traveller's Wife
when I finally pick it up. I thought that, in the meantime, reading
The Three Incestuous Sisters
would be a good way to get an idea of what her writing is like.
The Three Incestuous Sisters
is described as"A Novel in Pictures", and that is indeed what it is. The book is thick, but there is barely any text at all. Once sentence a page, one paragraph at the very most. What carries the story, then, are the beautiful full-page illustrations. The text is only there to help them along.
The book tells the story of three sisters, Bettine, Ophile and Clothilde. The harmony between them is disrupted when one of them, Bettine, gets involved with a young man named Paris, for whom Ophile also develops feelings. In the afterword, the author said the following about the story:
When I try to explain "The Three Incestuous Sisters" to someone who hasn't seen it, I tell them to imagine a silent film made from Japanese prints, a melodrama of sibling rivalry, a silent opera that features women with very long hair and a flying green boy. I never try to explain what it means; you can find that out for yourself.
I think this is an accurate description of the book. The story reminded me at times of a myth or a fairy tale; at other times of an ancient Greek tragedy.



The beautiful illustrations are done by Audrey Niffenegger herself. In the afterword she also explains the technique she uses, and she says that the book took 14 years to complete. It will take less than an hour of your time to read it, and most likely in the end you will think it was a very well-spent hour. Judging by this book, Audrey Niffenegger is a very original and gifted storyteller. I definitely want to read more of her work in the future.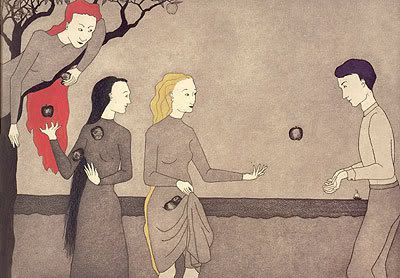 Reviewed at:
Rhinoa's Ramblings
Where Troubles Melt Like Lemon Drops
Bold.Blue.Adventure
The Hidden Side of a Leaf