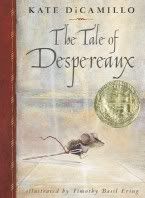 The world is dark, and light is precious.
Come closer, dear reader.
You must trust me.
I am telling you a story.

The Tale of Despereaux
is subtitled "Being the story of a Mouse, a Princess, some soup and a spool of thread", and indeed all of these things play their roles in the story. Book the First tells us of Despereaux, a mouse who is not at all like other mice. First of all, he is unusually small, even for a mouse. Secondly, his ears are abnormally big. Thirdly, he enjoys music and prefers reading books to eating them. And, most outrageous of all in the eyes of his fellow mice, he is not afraid of humans. In fact, he lets a human, the Princess of the castle where he was born, stroke his head and hold him in her hands. For these reasons, his fellow mice doom him to being devoured by rats in the dungeon. But of course, if things had actually turned out that way we wouldn't have much of a story.
Book the Second introduces Roscuro, a rat that prefers light to darkness, and Book the Third tells the tale of Miggery Sow, a servant girl whose father sold her away and who dreams of being a princess. The way Kate DiCamillo tells the stories of these different characters and brings them together with such mastery was one of the many things I loved about this book.
What I loved the most, I think – it's hard to pick in a book like this – was the warmth and comfort that this story brought me. The story in itself heartwarming and charming, but the tone in which Kate DiCamillo tells it increases that feeling even more. She addresses the reader constantly, and she does so in a way that does not ever feel intrusive, does not ever break the delicate magic of holding a book and believing, for a moment, the story we are being told. What it does instead is make us feel safe and comfortable, as if we were once more children being read a story before bedtime.

The story of the mouse Despereaux is an unlikely one, and the tone in which it is told is always light. But this does not mean that the story doesn't have its darker moments, or that its emotional resonance isn't very much real. I really admire the way she told a story like this in such a charming way without ever making it sound silly. She makes us feel for these characters, she shows us the inside of their hearts with such clarity that we smile when they smile and suffer when they suffer.

The book in itself is an object of beauty. Timothy Basil Ering's illustrations are absolutely gorgeous, and they strongly contribute to the story's charm and grace. This is a book I'd recommend to readers of all ages. If you are having a rough day, pick it up. It is likely to make you feel better. I can definitely see why this book won the Newbery Medal.

Other Blog Reviews:

Stuff as Dreams are Made On
A Fondness for Reading
Becky's Book Reviews
In Spring it is the Dawn
Firefly's Book Blog
Maw Books
The Well-Read Child
Educating Petunia
Bending Bookshelf
Library Queue
Thoughts of Joy
Books Love Me