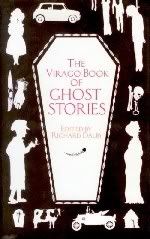 I really wanted to participate in Short Story Sunday at least once before the end of the
RIP Challenge
. And I know I should have posted this yesterday, but an unplanned viewing of Indiana Jones and The Temple of Doom (for the 150th time, probably) got in the way. I swear, that movie never gets old.
So, a while ago I found a hardcover copy of
The Virago Book of Ghost Stories
at a charity shop for only £1 – and in perfect condition. Yesterday I sat down with the book and a nice warm cup of mango and cinnamon tea, and read stories by Angela Carter, A.S. Byatt, Antonia Fraser and E. Nesbit. I loved all four stories, but reviewing them is actually difficult, because it's hard to talk about them without giving too much away. Nevertheless, I will try to write a paragraph about each story:
"Ashputtle" by Angela Carter
is a retelling of the fairy tale "Cinderella" in which Cinderella is helped by the ghost of her deceased mother. If I am not mistaken, there are actually some traditional versions of the tale in which this happens. Angela Carter's retelling is, at only three pages, very short, but it's beautifully written, and it's an example of what a fantastic storyteller she was.

In "The July Ghost" by A.S. Byatt, a man is at a party telling a woman he just met why it is that he has to move away from his current living place as soon as possible. As you might have guessed, given the theme of this book, the reason involves ghosts. This is an exquisitely written, subtle, emotional and perfectly paced story that reminded me of why it is that I like A.S. Byatt so much.

"Who's Been Sitting in my Car?" by Antonia Fraser was the most chilling of all four stories. It's the story of a divorced woman with two children that starts finding cigarettes in her car's ashtray in the morning. Furthermore, the gas tank gets mysteriously empty, so she assumes that someone has been stealing her car and driving it around at night. But the being responsible for this turns out not to be a thief, not exactly. This story has an extremely unsettling ending, which I won't give away, of course. But I do encourage you all to read it if you have the chance.

"The Violet Car" by E. Nesbit is the first person story of a nurse who once worked for a very peculiar old couple: both of them believed that the nurse had been hired because the other had gone mad. Of course, it turned out that both were wrong, and that something else was responsible for the strange things that were happening... I thought that this was a very well-told story, and once again I was reminded that I need to read more of E. Nesbit's work.

And that was it for this week. Next Sunday is the last Sunday before Halloween, and I'm hoping to be able to do this again - maybe with more stories from this book, or maybe with some of Sir Arthur Conan Doyle's supernatural tales.