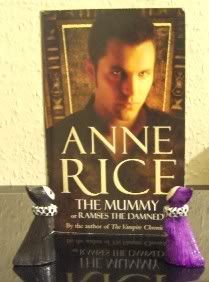 The year is 1914. Lawrence Stratford, an eminent archaeologist, uncovers a very strange tomb. According to the writing inside it, the mummy that rests there belongs to Ramses II. However, the tomb itself and many of the artefacts inside it are from the time of Cleopatra – about a millennium after the time of Pharaoh Ramses II. As the archaeologist translates the papyrus found in the tomb, he discovers a fascinating story: the Pharaoh claims that he was immortal, and that for centuries he was the advisor of the Kings and Queens of Egypt. The last Queen he served – and fell in love with – was Cleopatra. Heartbroken by her death, this immortal being retreated into a tomb, where he slumbers until the sunlight awakens him once more.
And in Edwardian London, he does awaken, and becomes the companion of Julie Stratford, the archaeologist's daughter. From then on, the reader is taken from London to Cairo, as a story of grief, regret and family secrets unfolds.
When I started reading this novel, I expected to get to a point in which Ramses would start telling his story, and a flashback would take us back to Ancient Egypt. I looked forward to the moment when Ancient Egypt would be brought to life brilliantly, just like Ancient Rome in
Blood and Gold
or Babylonia in
Servant of the Bones
. However, that moment never came. There are short flashbacks, but the action is all set in modern times.
My disappointment didn't last long, though, because I was completely sucked in by the story that was being told. In
The Mummy
, we have an ancient being dealing with the modern world, and this of course raises all sorts of interesting questions.

I had almost forgotten how vibrant and passionate Anne Rice's writing can be. This book, like many of her other books, is full of interesting characters with complex and ambivalent emotions, of beautiful, rich descriptions, of historical references and speculations.

I did not really find this novel scary, but then again, it always puzzled me that Anne Rice is classified as horror. I think of her more as a writer or dark fantasy, or even historical fantasy in some cases.



The Mummy

deals with many of the same themes we find in The Vampire Chronicles – life and death, love and loss, grief and regret. It's a very riveting story that reminded me of why it was that Anne Rice was once my favourite author. It also made me realize how much I miss her. I must revisit some of her books in the near future.

As you can tell from the picture, my black Poppet has arrived! I was very surprised when it did, because the mail has been sort of chaotic around here. I have yet to receive some course books I ordered over two weeks ago. But the Poppet didn't take very long at all. Now my Little Purple isn't lonely any more. Lisa Snellings-Clark also included other things in the package: a Play in the Dark bookmark, a button, a skeleton key chain and some Halloween candy. Isn't she the best?