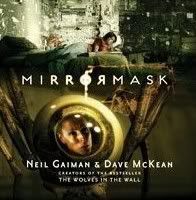 Mirrormask
the picture book tells the same story as
Mirrormask
the movie – the story of Helena, a young girl whose family owns a circus. While normally teenagers wish they could run away and join the circus, Helena wishes she could run away and join real life. This is what she tells her mother during an argument one evening. Later that same evening, her mother passes away and is taken to the hospital. The circus gets off the road, and Helena and her father stay at an aunt's house. The night her mother is being operated, Helena wakes up with the sound of strange music. She gets up to investigate, and ends up entering a world where fishes float in the streets, people cover their faces with masks, books fly back to the library, and cats have human faces, wings, and very sharp teeth…
My reaction when I watched the movie for the first time, a little over a year ago, was somewhat mixed. I am a big fan of Dave Mckean's artwork, and watching it come to life on the screen was quite an experience. The way the movie looked left me in awe. But surprisingly, the one thing that I didn't love as much as I expected was the story. Don't get me wrong, I liked it, but I was expecting to love it, and somehow I didn't.
I prefer books to movies. This is a personal bias I've always had. I do realize that movies are very powerful storytelling tools in their own right, and that some stories that work perfectly as movies wouldn't work nearly as well as books, but… I always feel closer to the stories I read than to the stories I see on the screen. Therefore, it is not surprising that it was only now, reading this book, that this story finally clicked for me. I finally fell in love with the characters, the humour, the world it's set in and its constant eeriness.
The story is told in the first person by Helena, in the form of a diary entry or, well, just a story being written. Right at the start, Helena says,
This is my story about what happened to me last year when Mum got ill and Dad and I had to stay at Aunt Nan's and I had my weird dream
.
So right away she lets us know that what we are about to be told is a dream. Now, this is a very tricky storytelling device, and I can't think of anyone who uses it successfully other than Lewis Carroll. Until now, that is, because in this case it is also used perfectly.

For me, is works for two reasons: First of all, the way the story captures dream logic, and that very particular kind of surrealism dreams have, is absolutely perfect. And secondly, even though the story is officially a dream, it is not belittled because of it. It is not dismissed as being "only" a dream. On the contrary, we know that it is important enough to be written down, to be remembered. The things that happen in this dream, even if not strictly real, actually matter on an emotional level.

This book is illustrated using images from the film as well as more traditional illustrations by Dave Mckean. It was wonderful to see how well this and the movie work together. As I said, reading this book and actually experiencing Neil Gaiman's words and his storytelling voice finally made the story click for me. But having watched the movie also helped, because as I read the story I could see the images moving in my head. I really recommend experiencing this and the movie together.

And since we're on the topic of Neil Gaiman, I just want to say how excited I am about his upcoming book

Odd and the Frost Giants.

This is a story I hadn't even heard about until recently, and today he was kind enough to post the start of the third chapter. I love it – I love the humour, I love the imagery, I think I love the characters already. And I love the last line in particular: The eagle fixed Odd with its one good eye. It will be so great to see him revisiting Nordic mythology. He does it so well.

Still on Neil Gaiman, those of you who read his journal know this already, but for everyone else, if you go here you can hear him reading a 30-seconds horror story, and listen to a clip where he talks about his favourite kind of ghost story. I really recommend hearing the little story before reading it – it's much scarier that way. He has the perfect storytelling voice.



Reviewed at:


Once Upon a Bookshelf
Firefly's Book Blog