This past Saturday I went to London to go to the Forbidden Planet Terry Pratchett signing, and I also got to meet the lovely
Rhinoa
. I was half an hour late to meet her, because some of the tube lines in London were cut, and the stations that did work were crowded, so I was delayed, confused and sort of lost, not necessarily in this order. My punishment was that, unlike Rhinoa, I didn't get to see Terry Pratchett arrive and stand outside the store talking on the phone for something like ten minutes.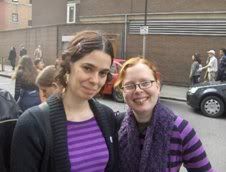 Me and Rhinoa


We actually had a pretty good position in line, but we still had to stand and wait for three hours, because the line went more slowly than we had expected. Time passed fast, though, and we got to talk about books, Poppets, movies, Tori Amos and other things. I had a really good time chatting with Rhinoa and some other Discworld fans who were waiting. There was a guy ahead of us in line who had met Neil Gaiman randomly at a Joe Hill signing just a little over a week ago! He had him sign a copy of
Good Omens
, and now he was bringing it for Terry Pratchett to sign too.

The reason why the line was going so slowly was that, first of all, Terry Pratchett would sign as many books as people brought. A guy ahead of us had a bag full of them. It made me wish I had at least brought my copy of

Reaper Man

, my favourite Discworld book. Secondly, he actually took some time to talk to people. I thought he was very friendly. I didn't talk all that much, because I never quite know what to say in those situations, but as I was leaving I said "thank you for the stories", and he looked up and smiled, which made me happy.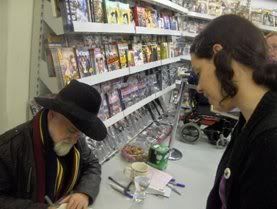 Me and Terry Pratchett (with Rhinoa in the background)


The books I got signed were

Wintersmith

and

The Last Hero

. I ended up not getting

Making Money

, because I have all the Discworld books in paperback and it would look odd in my collection (I can be slightly obsessive about those things). If I want to read it soon I can always borrow my boyfriend's copy. I also got a really cool Jack Skellington plush for only £5! It was a good day.