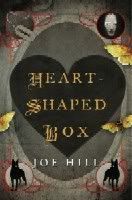 Heart-Shaped Box
is the story of Judas Coyne, a semi-reformed rock star in his fifties who collects occult and macabre artefacts. His collection includes things like a snuff film, sketches by John Wayne Gacy, a cannibal cookbook, or a three-hundred year old witch confession. One day, his assistant calls his attention to a very unusual internet auction: someone is trying to sell the ghost of their recently deceased step-father. Judas cannot resist buying it, and a few days later he receives the dead man's suit inside a heart-shaped box. Soon enough, he realizes that the ghost will be more than just an addition to his collection, and that there's more to the old man's story than he had imagined.
This is a weak plot summary, I know, but saying any more would be giving too much away. This is a story in which secrets are gradually revealed, and I found myself turning the pages avidly to find out what was going to happen next.
I don't have much experience with horror novels, but I do know that it takes a lot to scare me. Therefore, I wasn't surprised that I didn't exactly find this book scary. I did find it unsettling, though, and not because of the ghosts. This is a story that shows that men are much more fearsome than ghosts. It is a ghost story that is more about people than supernatural events. Not that ghosts don't play a key role in it, but… at its core, this is a story about people's secrets, about their hidden pains and private hells, about how they struggle to deal with them, and about the toll they can take on their lives.
It was for these reasons, because of the book's emotional content, that I liked it so much. Judas Coyne is not exactly a nice person, but over the course of the book I grew to care for him, to understand the workings of his mind, and to fear for his safety and the safety of those he loved.

I also very much liked the book's southern Gothic atmosphere, and other things about it, like the role that Judas Coyne's dogs played in the story. I always liked the concept of the animal familiar, and in this story it was used very interestingly.



Heart-Shaped Box

is a book in which nothing is as it seems. It's a book in which things slowly fit together to form a picture more scary than you could imagine – and scary in different ways, too. I wouldn't say it is for everyone, but I was completely enthralled by it, and I was surprised to realize, once I finished it, how much I was going to miss it.

This was the last of my official RIP Challange reads. But it's only the 14th of October, so I hope to still have time to add Anne Rice's

The Mummy

and do at least one Short Story Sunday.



Other Blog Reviews:


Quixotical
Stuff as Dreams are Made On
Everyday Reads

Tripping Towards Lucidity
A Stripped Armchair
SomeReads
Bride of the Book God
Book-a-rama
The Bookworm
Park Avenue Princess
Blogging 'bout Books
Books and Needlepoint
Kristina's Favourites