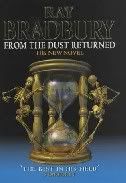 It was only when I read
this review by Ex-Libris
that I found out that Ray Bradbury's exquisite story "Homecoming" had been expanded into a novel.
From the Dust Returned: A Family Remembrance
tells the story of the Elliott family – a family of ghouls, vampires, mummies, winged men, witches, mind readers – and of Timothy, the mortal boy who came to live with them.
Many of the novel's chapters were previously published as short stories. Bradbury had been writing about the Elliott family for almost 50 years, until he decided to connect these short stories and form a novel. The book does indeed read as a collection of interrelated short stories – many would work perfectly on their own, but as often happens, the whole is more than the sum of its parts. Together, the stories form a puzzle, a puzzle that is deliberately left incomplete so that the reader's imagination can provide what's missing.
This is only my second book by Bradbury, but I find that his writing is often impressionistic – in the sense that it is suggestive and evocative, creating shades and building moods and emotions rather than painting a clear picture. It takes a very talented author to do this well, but Ray Bradbury clearly is a very talented author. His writing is all the more powerful because each reader adds whatever is necessary to make the stories resonate within him or her.

The stories told in this novel concern individual members of the Elliott family – Cecy the mind traveller, Uncle Einar, the winged one, Great Grandmère, a mummy from Ancient Egypt – the house where they live, and the Homecoming and what happens thereafter, among other things. The book is full of brilliant passages, so picking just one to share is hard. I think I'll go with the description of the family's house:

The House was a puzzle inside an enigma inside a mystery, for it encompassed silences, each one different, and beds, each a different size, some having lids. Some ceilings were high enough to allow flights with rests where shadows might hang upside down. The dining room nested thirteen chairs, each numbered thirteen so no one would feel left out of the distinctions such number implied. The chandeliers above were shaped from the tears of souls in torment at sea five hundred years lost, and the basement cellar kept five-hundred vintage-year bins and strange names on the wine tucked therein and empty cubbies for future visitors who disliked beds or the high ceiling perches.
There. I absolutely love the way he writes. The novel was beautiful and atmospheric and funny and melancholy, and an absolutely perfect Halloween read.



Reviewed at:


Ex-Libris
The Indextrious Reader