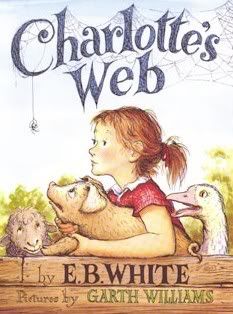 As most of you must know,
Charlotte's Web
tells the story of a young girl named Fern, of a pig named Wilbur and of a spider named Charlotte. When Wilbur is born, he is the runt of the litter, so Fern's father plans to kill him right away. Fern protests that this is extremely unfair, and her father ends up giving in. She raises the little pig with a bottle, and becomes very much attached to him. When is no longer a baby, he is sold to Fern's uncle, but she still visits him in the barn where he is living very often. There, the other animals warn Wilbur that he is only being raised to be killed around Christmastime. However, Wilbur befriends a very clever spider named Charlotte, and she comes up with a plan to save his life.
I had never read this book before, even though it is a classic of children's literature. I do have, however, extremely vague but fond memories of seeing an animated version of this story when I was a child. Revisiting it now, I found it a very sweet and charming story, and I can only imagine how delightful it must be for a child to be read this before bedtime.
One of the things I did remember (or perhaps I just read about it somewhere) was the sad thing that happens at the end. But I loved how the very last chapter was bittersweet in a kind of way that I really, really like – yes, sad things happen and life is full of grief and loss, but for every moment of pain there is another one that makes us glad to be alive. What is lost can often never be recovered, but as we live on, new things will be found. I realize that this is extremely vague, but I don't want to spoil the ending for anyone who happens not to know it.
I know there was a recent movie version of this story, and I was wondering if anyone has seen it, and whether it is worth renting next time I go to the video store or not.
Other Blog Reviews:
Nothing of Importance
Becky's Book Reviews
Dog Ear Diary
Desert Rose Booklogue