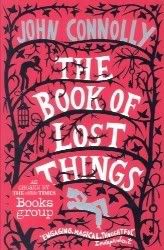 The Book of Lost Things
is the story of David, a boy whose mother passes away. David was very close to his mother (she had been the one to introduce him to his greatest passion, reading), and naturally he has a hard time dealing with her loss. Matters are made worse when, about one year after her death, his father remarries, and his new wife, Rose, becomes pregnant. David not only loses his mother, but also has to share his father with a new family, a situation that wounds him deeply. As World War II becomes a bigger and bigger threat, the family moves to a large mansion that has been in Rose's family for generations. The strange things that had begun to happen to David after his mother's death get worse and worse: David can hear books whispering to him. He has strange fits that cause him to faint, and during which he feels as though he's been transported to another world. He begins to see a strange-looking man in his house. One night, as German bombs fall near his house, he thinks he hears his mother's voice, and by following it he enters another world – a world in which "everything you can imagine is real".
The Book of Lost Things
is pretty much everything I ask for in a book. It is emotional, fantastic and engaging. It is adventurous, but it's also very personal. It's a book in the tradition of some of my very favourite works – in some ways, it reminded me of Michael Ende's
The Neverending Story
, although David encounters a world far darker than the one Bastian found.
Indeed, the world David enters is based on the fairy tales he so loves to read, and it follows the story-logic of a fairy tale – but these are the darker, older versions of the tales, which are not the ones most of us grow up with these days. Throughout the story, David finds a number of characters that tell him stories, and these are fairy tales with a further twist. I absolutely love the story-within-a-story strategy, especially when it's used well, like in this case. The tales David is told are actually relevant to the main storyline, in ways that become more and more obvious as we read on.

Because this world follows fairy tale logic, one can sometimes predict what will happen next, but, like in fairy tales, that actually adds to the enjoyment of the story, instead of taking the suspense away.

The tone of the book is dark and eerie, but there are also humorous moments, like when David meets the Seven Dwarves of Snow White fame. The whole sequence will undoubtedly not fail to make nearly everyone laugh out loud.

My edition of the book contains almost 200 pages worth of extras – an interview with John Connolly about the book, the original versions of the fairy tales that inspired

The Book of Lost Things

, and a little introduction before each tale in which the author explains why he chose to draw from that story in particular. These were absolutely fascinating to read, and for once I am very glad I got a book in paperback and not hardcover.

In the interview at the end of the book, John Connolly says,

I think that it's a book about childhood, or more specifically that period or moment when a child becomes very aware of the reality of the world in which he lives: that is difficult, that it owes no debts to the souls that inhabit it, that it is likely to be filled with a certain amount of pain and loss, and that, ultimately, human beings are powerless against the force of mortality.
I think that this quote summarizes the very core of the book.

The Book of Lost Things

is a book I wish I'd written myself, and although there are many books I love, there aren't many that make me feel this way. It uses fairy tales, my favourite kind of story, to express emotional issues that are relevant for every human being. It is a sad story, but ultimately a hopeful and uplifting one: it shows us how precious life is, despite the grief and loss and powerlessness we are bond to experience at certain times.

This is a book that will appeal to lovers of fairy tales, of coming-of-age stories, and also, simply, of books. It is very much a book lover's book, and David's passion for reading is something most of us will easily relate to. I will leave you with another John Connolly quote, also from the interview:

I think the act of reading imbues the reader with a sensitivity towards the outside world that people who don't read can sometimes lack. I know it seems like a contradiction in terms; after all, reading is such a solitary act that it appears to represent a disengagement from day-to-day life. But reading, and in particular the reading of fiction, encourages us to view the world in new and challenging ways (…). It allows us to inhabit the consciousness of another, which is a precursor of empathy, and empathy is, for me, one of the marks of a decent human being.
Other Blog Reviews:
Quixotical
Stuff as Dreams are Made On
A Garden Carried in the Pocket
Read Warbler
A Stripped Armchair
The Written Word
A High and Hidden Place
Confessions of a Book-a-holic
Melody's Reading Corner
Everyday Reads
Tripping Towards Lucidity
Fuzzy Cricket
Valentina's Room
Some Reads
The Hidden Side of a Leaf
Blue Archipelago
Bibliomusings
Dreaming Out Loud
Books of Mee
A Fondness for Reading