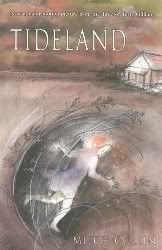 The dead and the sleeping,
How they resemble one another.
This quote from
The Epic of Gilgamesh
opens this novel, and it sets the tone for the story. Jeliza-Rose, the narrator of
Tideland
, is an eleven-year-old girl whose parents are heroin addicts. Jeliza-Rose is "home schooled", and her daily lessons consist in preparing her parents' heroin doses. After her mother dies of an overdose, her father becomes afraid that the girl will be taken away from him, so he takes her to an abandoned Texas farm by the name of "What Rocks", the place where his own mother lived before she died.
For reasons I cannot reveal, Jeliza-Rose's father ends up being mostly absent. Alone in rural Texas and with barely anything to eat, she retreats further and further into the world of her imagination – a world where she converses with fireflies and dismembered Barbie doll heads, a world where the meadow is the bottom of the ocean and a great shark swims about, a world where ghosts and frightening Bog Men are on the loose. A world in which she's not all alone.
I've seen reviews that compare Jeliza-Rose to Harper Lee's Scout and to Salinger's Holden Caulfield, and I can understand both these comparisons. She also has traces of Alice from
Alice in Wonderland
– a book that, incidentally, she loves and often quotes The biggest difference between the book and her own life is that her wonderland is much more bizarre and eerie than the one Alice finds.
Tideland
is both frightening and delightful, both gothic and tender. In this story, the mundane and the fantastic go hand in hand perfectly. Ordinary things gain eerie contours when illuminated by the imagination of this lonely girl. Like most stories about abandoned or mistreated children, it can be quite disturbing, but through Jeliza-Rose's eyes we see charming details in what would otherwise be a hopeless situation. Her imagination keeps her alive, because it helps her keep fear and despair away.

I read this novel as my first selection for the Book to Movie challenge. I'm also going to post this review on the RIP Challenge review site, though, because I think this book is a good suggestion for those still looking for books to read for the challenge. This is a Southern Gothic tale that is a little reminiscent of Faulkner's "A Rose for Emily", and I highly recommend it to everyone.

In the spirit of the Book to Movie challenge, I thought I'd also write about Terry Gilliam's wonderful adaptation of this novel.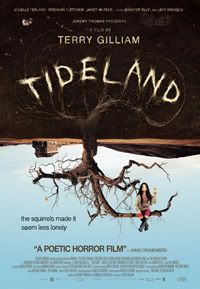 I watched the movie a few months ago – it was the reason why I became aware of the novel's existence – and let me tell you, it is one of the most faithful adaptations I have ever seen. It probably helps that the novel is short, so there was no need to cut anything out.

But there's more to it than that, of course. Terry Gilliam perfectly captured the mood of the story, its emotional undertones, and translated it beautifully onto another art form. The changes that were made are few, and they were necessary for it to work as a movie. The biggest difference between the novel and the movie is, for me, the fact that the movie manages to be slightly darker, but this is due to the fact that in the movie we actually see the horrific events that take place, whereas in the book they are softened by the narrative voice of a child - a child who reads them differently, more positively, so that she may keep despair at bay. Of course, this in itself is disturbing, but in a more subtle way.

Unfortunately,

Tideland

was not very well received. I do wonder how much the way it was marketed had to do with it – and Terry Gilliam wondered the same. It was this movie that was behind the famous "will direct for food" incident. I understand how the movie's disturbing nature can make it hard to watch, but I also think that those who give it a chance will be enthralled by its dark, surreal beauty, and will find a tender story that is hard to forget.

For more on this, I recommend reading this article by Mr. Gilliam himself about the movie.