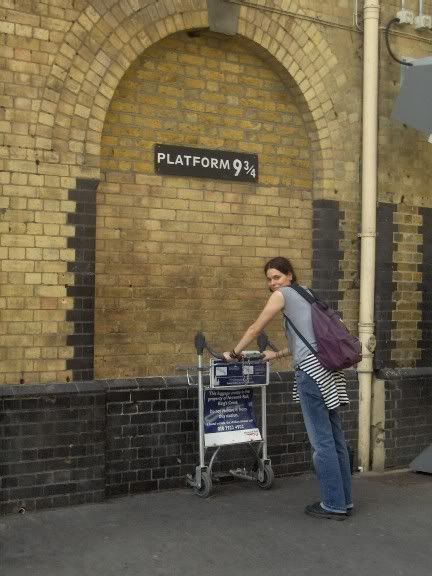 Taking this picture was one of the first things I did after arriving to the UK. Not exactly intentionally – I flew to London and then I had to take a train to Nottingham. The train left from St Pancras, which is right next to King's Cross, so it was on the way. But yeah, taking this picture made me extremely happy. I stood in front of Platform 9 ¾ for some 10 minutes, and in that time several groups of people went to have their pictures taken there. Some would approach it reluctantly, as if they were ashamed; others would come with big grins and take their times. But what they all had in common was that they left smiling. It was really nice to be there watching people come and go for a little while. It was as if that place had a bit of the magic from the books.

As for book news, I haven't been able to get much reading done. Almost a week has gone by and I'm still only a third of the way into

The God of Small Things.

Hopefully things will calm down soon and I'll have more time to read. I am really enjoying it, so I can't wait to be able to devote the proper amount of time to it.

I have managed to fit some book buying into my schedule, though :P There's a street in Beeston, the neighbourhood where I will most likely be living, that has some 8 charity shops where used books are sold for great prices – normally under £1.50. Some are a bit battered, but most are in very good condition. You can tell they've only been read once. So, on my first two days here I got the following books for a total of less than £3:

Watership Down

by Richard Adams, which I will be reading for the Four-Legged Friend Challenge.



Miss Wyoming

by Douglas Coupland – he's one of my favourite authors and I haven't read this one yet.



The Virago Book of Ghost Stories

– a hardcover copy in perfect condition. It includes authors like E. Nesbit, Angela Carter, A. S. Byatt and Charlotte Brönte. It'd be perfect for short story Sunday – if only I had the time to read it!



Robin Hood

by Antonia Fraser – I figured that while I'm in Nottingham I just have to read a retelling of this legend.



The Zigzag Way

by Anita Desai – I am not familiar with the author, but one of her other books was short listed for the Booker prize. I was drawn to this one because of the cover, and by the fact that the story is set in Mexico and involves the Day of the Dead.
And don't get me started on all the great books I saw but didn't get. Even books I am not particularly interested in - you can find copies of popular books in great condition that would be perfect for trading on BookMooch.

Other than the stress of house-hunting, I've been having a very nice time here. The university campus is absolutely gorgeous – lots of trees, big lawns, nice buildings, crows and squirrels everywhere. Half of the time I feel like I am inside Pamela Dean's

Tam Lim

. I like how the campus has an old, almost haunted feel to it. If I happen to be here on All Hallows Eve I think I will be scared of running into the Queen of Faeries and her court. The city centre seems lovely too, but I haven't had the time to explore it properly because I've been spending my days looking for a place near the university. I have created a Picassa account with some pictures of the city and the campus, so if anyone wants to take a look just click here.

I miss reading everyone's blogs. The place I am probably going to move in to has Internet access, to hopefully I will be able to visit you all again regularly from next week on.