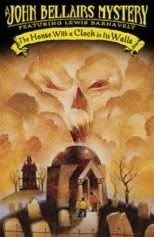 The protagonist of
The House with a Clock in its Walls
is Lewis Barnavelt, a ten-year-old boy who, after the death of his parents, goes to live with his uncle Jonathan in a town called New Zebedee. Lewis soon realizes that both his uncle and his neighbour, Mrs. Zimmerman, act a little strange sometimes, and it doesn't take him long to find out why: it turns out that they are, respectively, a wizard and a witch.
The house where Uncle Jonathan lives used to belong to a dark wizard by the name of Isaac Izard. One of its peculiarities is the fact that one can hear the sound of a clock ticking inside its walls. In front of Lewis, Uncle Jonathan and Mrs. Zimmerman act like that's not a big deal, but Lewis suspects there might be more to it than they let out. He ends up being proven right by a series of events that are set off when he plays with necromancy on Halloween night to impress a school friend.
Lewis Barnavelt is a good character. He is an insecure boy – overweight and very bad at sports, he has a hard time making friends. The mistakes he makes are understandable. They come from his fear of being abandoned, of losing yet more people that are important to him. In the end, his flaws make him even more likeable, especially because he proves himself capable of overcoming them and doing the right thing at crucial moments.
This novel is written in a style that reminded me a little of Roald Dahl, and that can only be a good thing. I think that what I liked the most about the story was the fact that it had just the right amounts of both creepiness and comfort. The novel has a gothic feel to it, but there are also some Griffyndor-common-room-esque moments spent eating chocolate chip cookies and drinking hot cocoa around the fire: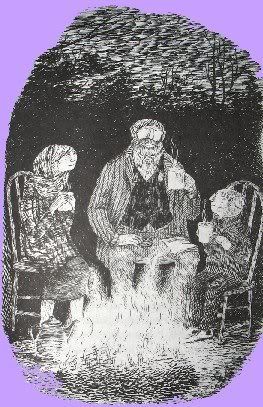 Edward Gorey's illustrations are a wonderful addition to the story:



There are nine more mysteries featuring Lewis Barnavelt, but unfortunately only the first three were written by John Bellairs. The following three were started and outline by him, but finished by Brad Strickland, and the remaining were written by Brad Strickland alone. I am usually suspicious of series that are continued by anyone other than the original author, but I am willing to give this one a try, because I really can see it becoming a comfort series for me.



Other Blog Reviews:


Stuff as Dreams are Made On
Words by Annie
Poodlerat's Book Blog
The Zen Leaf
Necromancy Never Pays