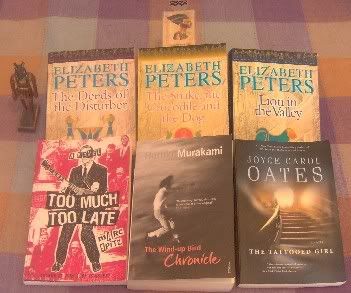 It's
my
turn
. I hadn't actually bought any books in a while, but yesterday I went to a big bookstore, and they had a bargain bin with books in English for 4 euros each. My finds were:
Too Much, Too Late

by Mark Spitz. I had heard of this author because he wrote "How Soon is Never", a novel about a man whose greatest aim in life is to get The Smiths to reunite. This novel is also music-related - it's about a rock band that makes it big at last. It sounds like something I'd enjoy, and plus, his work has been compared to Nick Hornby's.



The Tattooed Girl

by Joyce Carol Oates. I'll be reading this one for the Seconds Challenge instead of

We Were the Mulvaneys

like I'd originally planned. I still plan on reading that one some day, but since I found this for such a good price, why not?
Lion in the Valley

,

Deeds of the Disturber

and

The Snake, the Crocodile, and the Dog,

by Elizabeth Peters. These are part of the Amelia Peabody series, a series whose existence I became aware of recently, when I saw this review at Historical Tapestry. They are historical mysteries set in Victorian times, and taking place or having to do with Egypt. When I was little I actually wanted to be an egyptologist - everything to do with Ancient Egypt has always fascinated me. The author is actually an egyptologist herself, so the historical aspects of the books must be accurate. It just sounds like a very fun series. And plus, I miss the feeling of reading a series of books all featuring the same characters, and having them slowly begin to feel like friends. My only doubt is if this series should be read in order or not. The books I got are the fourth, fifth and seventh. They are mysteries, so I suppose each has its own individual story, but maybe there are references to past books. Either way, I'm probably not going to read them soon, so there's time to get the first three in the series.



The Wind-Up Bird Chronicle

by Haruki Murakami. Okay, so this one wasn't in the bargain bin. But it's one of my challenge books for this year, so I thought I might as well get it now.
Despite these great finds, I think I'm actually going through a bit of a reading slump. I started the Murakami book when I got home, but the fact that it's 600 pages long is a bit discouraging. Plus I'm not sure if I'm in the mood for a Murakami book right now. But I'll see as I go along. I'm also reading

The Odyssey,

but that is of course a long-term project. I suppose I could pick up the Mark Spitz novel, which seems to be a quick enough read, but I want to be making some progress on my challenges. Also, I'm really upset that a package containing two challenge books,

The God of Small Things

and

Miguel Street

, was lost in the mail. It's the first time this ever happens to me. It was sent from England over a month ago. I order a lot of things from there and they normally take less than a week to arrive. I ordered it from a seller at the Amazon marketplace, so they don't even have other copies of the books to send me. All of this makes me weary of ordering things online, even though there are a lot of challenge books I need to get my hands on.


---
On other news, my blog finally got reviewed over at Review My Blog. They gave me 7 out of 10, which is more than I expected. My reviewer said my content was good, but she really, really hated my template. It's funny, I had never thought of my template as childish, although I guess I can see how it can be seen that way. That isn't something that bothers me, though. I will change the look of the blog when I get tired of this one, but that hasn't happened yet. And I would of course change it if I got complains that it made my posts hard to read, but that also doesn't seem to be the case. Also, as I feared, they suspected a conspiracy because Chris, Carl and I all submitted our blogs at around the same time. But it really was just a coincidence.


Tomorrow I will be leaving for a weekend outing with my boyfriend, so have a great weekend everyone, and I will see you all on Monday.