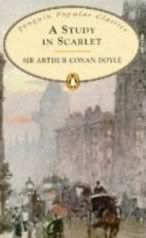 I've discovered yet another thing about mysteries – they can be addictive. I've owned this book for years, and yesterday, after finishing my very first Sherlock Holmes, I could not resist the urge to read it.
In
A Study in Scarlet
, a man is found dead at an empty house in Brixton Road. He shows no signs of injury, and yet there are blood marks on the walls of the room where he is found. In fact, the German word "rache" (meaning revenge) is written in blood in a corner of the room. Sherlock Holmes is called to the scene of the crime by two Scotland Yard inspectors who are quite clueless about the crime, and yet wish to keep the credit of its resolution to themselves.
I was already half familiar with this story because of Neil Gaiman's "A Study in Emerald", which is, to some extend, a retelling of this. That familiarity wasn't, however, great enough to give away key aspects of the story.
This is the first of the Sherlock Holmes novels, and in it we get to see how Dr. Watson meets Sherlock Holmes, and how they come to share the house on Baker Street. I found that that alone made the novel very interesting to read.

The greater problem with this story is the fact that, unlike what happens in

The Hound of the Baskervilles

(and in most mysteries, I believe), the reader has no possibility whatsoever to figure things out on his own. The book is divided in two parts, and the story told in the second part, taking place in American and involving the settling of the Mormons in Salt Lake City, is essential to the solving of the mystery. And yet the reader has no access to it until after Sherlock Holmes has solved the crime. Holmes works in silence. We see him from Dr. Watson's eyes, and so we are kept in the dark. What we have here is more a display of Sherlock Holmes' powers of reasoning than anything else, and this fact makes the story less enjoyable.

I would say, though, that despite this the book was a worthy read. And considering that this is the first of Sherlock Holmes' adventures, and a pioneering work in the genre of mystery, I think Conan Doyle can easily be forgiven for not putting the necessary cues in the book.



Other Blog Reviews:


Aquatique
Read Warbler
A Fondness for Reading