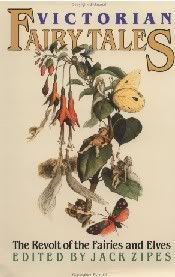 Before I read this book, I was a little reluctant when it came to Victorian fairy tales. I love the Victorians, but it was in the Victorian era, after all, that fairy tales began to be stripped of all darkness and ambiguity to become the sugary, simplistic stories Disney often showers us with today. Still, I thought that reading this collection would at least have historical interest, and being a great appreciator of Jack Zipes' anthologies I decided to give it a try.
Well, this collection did have historical interest, and much more besides. There were some stories I simply loved, and even in the ones I didn't I was completely charmed by the beautiful, elaborate Victorian language.
The table of contents was another reason why I decided to read this: the book includes authors like Oscar Wilde, Rudyard Kipling, Lewis Carroll, Charles Dickens, George MacDonald and Kenneth Grahame, among others whose work I wasn't familiar with. In addition to that, the book is beautifully illustrated by the likes of
Richard Doyle
,
George Cruikshank
and
Walter Crane
.
This collection, like everything Jack Zipes does, is superbly organized. There is a long and very informative introduction where Zipes acknowledges that fairy tales in Victorian times tended to be explicitly moralistic, and were used to indoctrinate children with strict social and moral values. But of course, the overall trends of an era don't really reflect
everything
that was being done at the time, and the book is also full of counterexamples: tales whose purpose is simply to celebrate imagination and storytelling, tales that present alternative sets of values, and tales where Victorian society is more or less openly criticized.

The stories are presented chronologically, from 1839 to 1902, and because of this the gradual changes in the way stories were told really stand out. I liked the second half of the collection a lot more: the stories are less moralistic, more humorous, and a lot more original. This was the beginning of the Edwardian era, which is after all often referred to as the Golden Age of children's literature. There's also a small introduction before each story with information on the author and their work, which is something Zipes always does and which I find very useful and absolutely love.

Now, about the stories themselves – as expected, there were some that were very obviously preachy: Catherine Sinclair's "Uncle David's Nonsensical Story about Giants and Fairies" shows us what happens to idle children who do not want to learn their lessons; Alfred Crowquill's "The Love of Gold" is about the consequences of greed; George Cruikshank's story, a retelling of Cinderella, is mostly a piece of unintentional comedy. The story is beautifully written, and for the first three quarters its seem to be a regular retelling of Cinderella. But Cruikshank's only purpose in retelling fairy tales was to preach against the evils of alcoholism, and wasn't in the least subtle about it. In his Cinderella, we have the Fairy Godmother telling the King not to serve any wine at the Prince's wedding, because even one drop of the foul liquid is too much. Now, I don't even drink, but this was so completely radical and over the top that it made me laugh out loud. The mini-introduction to this story offers an interesting piece of trivia: Dickens was so shocked by the extremely moralistic way in which Cruikshank retold fairy tales that their friendship came to an end.

Lewis Carroll' story, "Bruno's Revenge", was one of my very favourites. In the introduction, Jack Zipes says, "His Alice books served to liberate the fairy tale from moralism and encouraged young readers to think for themselves and question the accepted norms of the adult world." This is true, and it shows. This story is an except from the novel "Sylvie & Bruno" (which I absolutely must read), but this version is different from the one that appears in the novel – and, according to Zipes, better.

There were two realistic tales I found very interesting: "Cinderella", by Anne Isabella Ritchie, and "Red Riding-Hood Over Again" by Harriet Louisa Childe-Pemberton. Both contain no magical elements whatsoever. They retell the stories in a realistic and straightforward manner, and the appeal is that they portray the lives of young women in Victorian society in detail. They were both quite delightful to read – even though the second is a cautionary tale about what happens to young women who dare defy the social norms by talking to strangers. I'm sure you can imagine the rest.

Other noteworthy tales were "The Ogre Courting" by Juliana Horatia Ewing, a very enjoyable Bluebeardhish story, Kipling's "The Potted Princess", which uses Indian folklore motifs, and George MacDonald's "The Day Boy and Night Girl". I found the premise behind this last story wonderful. A witch decides to conduct an experiment: she raises a boy and a girl, and the boy is only every exposed to the daytime, while the girl is only acquainted with the dark. The story is about what happens when they first venture out of the element in which they've lived all their lives.

Like I said, the last few stories in this collection were my favourite, and these included "The Reluctant Dragon" by Kenneth Grahame, a humorous story about a dragon who refuses to act like one, and "The Last of Dragons", by Edith Nesbit, another humorous story, this one about a princess who wants to fight dragons herself instead of simply waiting for a prince to rescue her. Hooray for that.