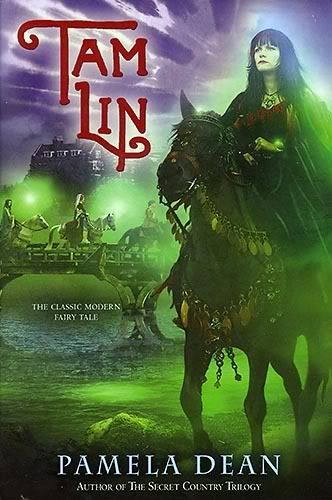 Pamela Dean's
Tam Lin
is a very free retelling of the old Scottish ballad of the same name. Perhaps because of the title, I expected it to be closer to the original story. This is in fact a modernized version; however, the novel is none the worse for it.
This book is part of Terri Windling's
Fairy Tales series
, and this edition has an introduction by the wonderful Windling herself. In it, she explains that even though Tam Lin is a ballad and not a fairy tale, it has quite a few fairy tale elements, and was adapted into a fairy tale by Joseph Jacob. She also gives us information about the old tales and traditions surrounding All Hallow's Eve, and recommends other modern retellings of this story (including my beloved "Fire & Hemlock"), and also musical performances of the ballad (including one by Fairport Convention that I absolutely must hear).
Tam Lim
is, without giving too much away to those not familiar with it, a story about a woman, her lover, and the Queen of Faerie. And the word "faerie" is used here in the oldest possible sense – not miniature creatures with butterfly wings, but the ancient, tall, frightening beings of pagan times. I love how this edition of the book contains the original ballad itself printed at the end. I had read it online before, but it's nice to have it in book form.
Pamela Dean's novel is set in the 1970's, and at a college campus in Minnesota. The book is, on the surface, completely realistic. Janet, the protagonist, is 18 years old when the story starts, and has just moved into a dorm for her first year of college. The story focuses on Janet, her roommates, her courses, her friends, her love life, the literature she so much loves, the theatre, her growing pains, everything that is part of crossing the threshold into adulthood.
But just bellow the surface, there are many strange little things that hint at the subtle presence of the supernatural in the background. Some of these are easier to pick up if you're familiar with the ballad. What I found so ingenious about this book is that Janet herself doesn't make too much out of these strange occurrences, except in rare moments of clarity. The book perfectly mimics the confusion that, according to the old folk tales, any mortal is bond to feel in the presence of Faerie.

The most obvious strange thing about Blackstock College is the rumoured presence of the ghost of a young woman who killed herself there in the late nineteenth century. This ghost makes its presence known by throwing books out of the window of the room where she put an end to her life. But these are just rumours, after all, pieces of college folklore. The sense of strangeness, however, increases as the book progresses, and finally all the pieces of the puzzle come together.

One of the first things I noticed about this novel - it becomes obvious in the very first chapter - is that it mentions a lot of books. Janet is an English Major, and literature is her passion. When the story opens, she is unpacking the three boxes of books she brought with her to college. These include

The Wind in the Willows,

Lewis'

'Til We Have Faces

and

The Children of Llyr,

among others. She takes an immediate dislike to one of her roommates because she declares, "These are children's books!", and also because she says she found Madeleine L'Engle's

A Wrinkle in Time

silly.

Other authors and books mentioned include

The Hobbit

,

The Lord of the Rings

,

The Odyssey

,

The Iliad

, Keats, Pope, T. S. Eliot, Dr. Johnson, and Shakespeare - a lot of Shakespeare. Pamela Dean quotes extensively from many of these author's works, and the book is full of literary references, some of which I have no doubt missed. This is a perfect book for book lovers – one cannot help but to smile when a favourite is mentioned. But even those who are not obsessive readers or aren't familiar with many of the works mentioned or quoted are bond to be moved by Janet's passion for literature.

Like I said, Shakespeare is all over the book, and this put me in the right mood to read

A Midsummer Night's Dream

and finish the Once Upon a Time challenge.

If I have one complaint, it's that the last quarter of the book was a little rushed compared to the first three. Janet's first year at college is described in great detail; the other three, not so much. It's in her fourth year that events culminate, and I wish there had been more details, and that the pace of the action had been slower. But the fact that I wanted even more details in a novel that is over 450 pages long goes to show how engaging I found this story.



Other Blog Reviews:


Books & Other Thoughts
Rhinoa's Ramblings
Jenny's Books
Dog Ear Diary