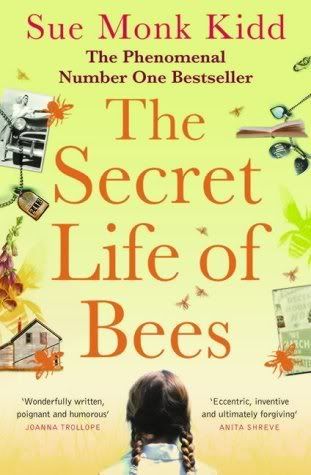 "Stories have to be told or they die, and when they die, we can't remember who we are or why we're here."
Where to start? Over the last few months I've come to realize that
The Secret Life of Bees
is an extremely popular and widely read book. But this is not the case in my little corner of the world. Until a few months ago, when I began it think of what my picks for the
Southern Reading Challenge
would be, I was perhaps vaguely familiar with the book's title, but nothing more. This is one of the reasons why I love reading challenges. They expose me to books that I would perhaps not read otherwise – and I would definitely be missing out.
For the few who don't know,
The Secret Life of Bees
is the story of Lily, a fourteen-year-old motherless girl living in South Carolina in 1960's, the time of the Civil Rights movement. Lily's mother died when she was a small child, and she lives with her uncaring father, and her only friend is Rosaleen, a black servant who helped bring her up after her mother's death. After the Civil Rights law is passed, Rosaleen goes to town to register her name to vote, but she gets into trouble. The two of them have to run away, and end up at a Bee Farm in Tiburon, South Carolina, living with a coloured family, and Lily begins to work as an assistant beekeeper. From then on, the book is a journey of self-discovery. Lily wants to learn about her mother, and in the process she also learns about herself. The Civil Rights movement and the racial tensions of that period are always in the background, and they add depth to the story.

There are many reasons why I loved this book. The writing itself, for starters, is both simple and beautiful, and, above all, it feels very genuine. There's earnestness pulsing behind every word. The descriptions are very vivid, and they often create concrete images that convey the feeling that is being described perfectly. One example:

I don't remember what they said, only the fury of their words, how the air turned raw and full of welts. Later it would remind me of birds trapped inside a closed room, flinging themselves against the windows and the walls, against each other.
And another:

I think now that it was sorrow for the sound of his fork scrapping the plate, the way it swelled in the distance between us, how I was not even in the room.
Like I said, I loved how genuine this book felt – the writing itself feels earnest, but there's more than that. This book shows things as they are. At some point in the story, August Boatwright says, There is nothing perfect. There is only life. This is true in general, and it's very true of this story in specific. The way problems like racism are portrayed, for example, shows them in their full complexity. Lily is a white girl living with a coloured family, and although she was outraged when Rosaleen was mistreated by white men, she discovers that she too has some prejudice buried inside her. It is only by admitting this to herself that she begins to overcome it.

All through the book, we are shown that in life, things are often not how we wish, nor how we dreamed they'd be. We learn to accept them as they are, though, and to live with them – to treasure them for their flaws, even. They may be broken and human-sized, but they are ours – the events of our lives, which shaped us into who we are. This acceptance, and the treasuring that comes after acceptance, was for me the main core of the story.

Another thing I really liked is how faith is portrayed in this book. The Boatwright sisters are part of the Daughters of Mary, and their faith and their rites are very personal and very passionate.

And of course, there are the bees. Bees are fascinating animals, and, especially after reading Terry Pratchett's

Lords and Ladies

, I smile every time I find them in a story. In this book, there are quotations from apiculture books before each chapter, and each and every one of them is related to what the characters are going through.

There are quite a few sad events in the book, and not everything Lily unveils in her journey of self-discovery is pleasant, but, despite that, I found this an ultimately uplifting and hopeful story. To the few who haven't read it, I say: do – it will be worth your time.



Other Blog Reviews:


Nothing of Importance
Out of the Blue
Back to Books
Melody's Reading Corner