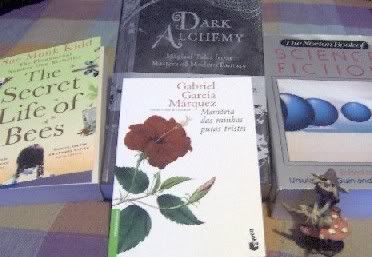 My sad attempt at Book Porn
This week was exciting, book-acquiring wise. First of all, I won 3 books at
Dewey's
blogroll game! The books are being kindly donated by Susan at
West of Mars
, who let the winners pick anything from her Book Crossing inventory. I picked:
Only You Can Save Mankind

by Terry Pratchett

(One of the few Terry books I don't have!)


Chernevog

by C. J. Cherryh

(This is the second book in a series, but I've been meaning to get the first, "Rusalka", for ages, so this'll give me extra motivation. It's a fantasy series inspired by Slavic myth and folklore, so I'm quite certain I'll love it.)


Sandry's Book

by Tamora Pierce

(Tamora Pierce is one of those fantasy authors I keep hearing about, but have never read.)
Secondly, I ordered the remaining books for the
Southern Reading Challenge
last weekend.
The Secret Life of Bees
arrived yesterday, and I'm really looking forward to reading it.
The Watermelon King
should hopefully arrive on Monday. I have very high expectations for that one.
Thirdly, I discovered a new book at the library -
The Norton Book of Science Fiction,
edited by Ursula K. Le Guin and Brian Attebery. To explain how excited I was, I have to tell you that my library does not have a science fiction or fantasy section. This is the first time I've EVER seen a work of genre literature there. On top of that, it's co-edited by one of my favourite authors, and it includes the work of authors like Roger Zelzany, Samuel R. Delaney, Gene Wolfe, Harlan Ellison, Marion Zimmer Bradley, John Crowley, Orson Scott Card, Margaret Atwood, and so on - either authors that I like, or authors whose work I've been meaning to read for ages!

Now, even though, I am, as you probably have noticed by now, a huge fantasy fan, I am not particularly well-read in science fiction. There is no particular reason for that, though, it just... never really happened. But most of my favourite fantasy authors write science fiction as well, so it's about time I give it a try. The Norton book is huge, almost 900 pages long, so I'll read it slowly, one story at a time, borrowing it from the library occasionally, or just reaching out for it whenever I'm taking a break from studying. It just makes me happy to know that this book exists, and that it is within my reach.

And finally, the most exciting thing of all - I went to the campus bookstore at lunch time, for no particular reason other than the fact that I hadn't been there in quite some time. It's a smallish bookstore, carrying mostly things students are likely to need. And yet, there it was - the

Dark Alchemy

anthology. Again, to explain how excited I was, I have to tell you that bookstores around here rarely, if ever, have fantasy and science fiction sections, and the amount of untranslated English books available is very small. And yet there it was, practically glowing on the shelf. I couldn't believe it, and of course I had to get it right away.



Dark Alchemy

is the same as

Wizards

: a recently published collection of brand new tales from the masters of modern fantasy - Garth Nix, Jane Yolen, Orson Scott Card, Peter S. Beagle, and, of course, NEIL GAIMAN, with "The Witch's Headstone", a short story that is also a chapter from his upcoming

The Graveyard Book

. The possibility of reading this story today was the main reason for my excitement, although I'm sure the rest of the collection will be very good as well.

Finding this book made me happier than I can say. Normally buying books is a delayed pleasure for me. The kind of books I love the most (fantasy, and preferably in English) can't just be bought at bookstores here. I have to order them online, and wait patiently for a week or longer for them to arrive. So coming home with a brand new book I'm this excited about is a very rare thing for me. The timing was absolutely perfect too. This has been a bad week, reading-wise. I have been stressed and tired and I've been having less reading time than normally. Plus, like Robin said, picking up a book after

To Kill a Mockingbird

has been difficult. I'm sort of stuck with the Calvino book I'm reading. But getting home and reading the Neil Gaiman story has sort of regenerated reading for me. All I can say is... wow. I know I should wait until I finish the book to post about it, but I'll probably write a post about this story in the near future.

The campus book store also had Gabriel Garcia Marquez'

Memories of my Melancholy Whores

at a very appealing price, so I just had to buy it as well. I've been dying to read more of his work after

Love in the Time of Cholera

, and this one is only 100 pages long, so it will hopefully be a fast and satisfying read.

There was a third reason why I was very happy I decided to go to the bookstore. There is an exhibition of marionettes by a local artist that will be there until the end of the month, and whoa, they are amazing, simply amazing. Many are inspired by characters of folk and fairy tales; others are not, but still seem to have come straight out of that world. They were all beautiful and slightly creepy and a little reminiscent of some of Lisa Snelling's works. I am very tempted to go back with my camera and ask if I'm allowed to photograph them. I would love to share them with all of you.