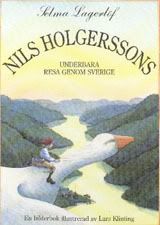 This book tells the adventures of Nils Holgersson, a lazy, cruel boy who one day decided to mess with the wrong creature: a little elf.
Once there was a boy. He was, let us say, something like fourteen years old; long and loose-jointed and towheaded. He wasn't good for much, that boy. His chief delight was to eat and sleep; and after that, he liked best to make mischief.

When Nils catches an elf inside a butterfly-snare, the elf takes revenge by casting a spell that turns Nils into the same size as himself. After that, the boy is carried away by one of his farm's tame geese, who decided to join the wild geese's seasonal migration.
Soon enough, Nils realizes that, being the size he is now, he can no longer afford to be cruel to animals. His new-found kindness is at first a survival strategy, but it quickly becomes a conviction, and Nils is deeply changed.
I have to say, however, that this story is not really about Nils Holgersson. What it really is about is Sweden. It is a love song to Sweden. Selma Lagerlöf loved her land, and that love is pulsing behind every word; it leaks out of each sentence. As the geese carry Nils on their annual migration to Lapland, they fly over the several provinces of Sweden, and the land is described in great detail. But although very descriptive, this book is not at all dull or slow-paced. The descriptions are vibrant and alive, and, as I said, enriched by the love of the land that lurks behind each word.

There are many animal tales in this book – other than the geese, Nils meets wild ducks, a dangerous fox, crows, mice, and even an eagle. He discovers that now that he is elf-sized, he can understand the language of animals, and he can talk to them. The parts of the book that focus on animals are often very ecological at their core, but never, never in a preachy way, and not from an "us versus them" perspective either. What Selma Lagerlöf seems to advocate, and this in 1907, is a balanced, harmonious exploitation of natural resources.

But the book doesn't focus solely on animals. Being small, Nils can listen to humans talking without being seen, and he often overhears people telling stories about the provinces they live in. Selma Lagerlöf beautifully weaves previously unpublished folktales of the several provinces of Sweden into the story.




There are also beautiful and very human tales concerning secondary characters, who are often inhabitants of rural areas. There's the tale of the old woman who died alone on a semi-abandoned farm, there's the sad story of Osa, the goose girl, and her brother Mats, there's the story of the old musician from Stockholm and the king.

This story portrays early twentieth century Sweden and its inhabitants wonderfully. I feel like I learned a lot about a country I didn't previously know very much about, and, in that sense, this was a perfect choice for the Reading Across Boarders challenge.

If is unfortunate that Selma Lagerlöf, despite being a Noble Prize winner, seems to be more or less forgotten. I certainly plan on reading more of her work in the future.

You can find this book at Project Guttenberg. You can also find a version with the illustrations I used in this post here.

Other opinions:
DogEar Diary
A Fort Made of Books